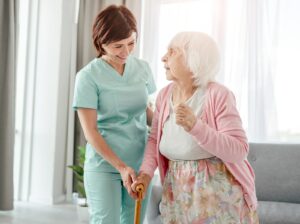 If your senior parent has recently had a hospital stay, the transition to being at home again can be difficult for everyone. It's important to try and anticipate things that they might need to help them recover while also making sure that you are being as emotionally supportive as you can. Many seniors have their confidence shaken after a hospital stay where they need to rely on others for everything and don't have the comforts of  home. Use these tips to help your senior loved one make a smooth transition to being at home again, with the help of senior home care:
Get Help from Senior Home Care
Taking care of a senior loved one after an illness or injury isn't easy. Senior home care is a great way to ensure that your senior loved one has the extra support and care they need. And since senior home care is available 24/7 you can arrange for senior home care when you can't be there to make sure that your senior parent is not alone. For at least a little while after they come home your senior loved one may need help with things like getting to and from the bathroom, making meals, getting dressed, and doing any exercises that the doctor wants them to do.
Get Them Back Into A Routine As Soon As Possible
Routine is very important for seniors. It can help them maintain a positive attitude and help their mental health to get back into a familiar routine as soon as possible. Try to do what you can to make that happen. For example, if your senior loved one is used to getting up at a certain time but you can't be there at that time schedule senior home care for that time so that they can get up at their usual time. Make sure meals are served when your senior parent is used to having them. Do whatever you can to recreate the routine that they were used to before they were hospitalized.
Make Sure They Are Involved in Follow Up Care
One of the things that makes seniors feel bad when they are in hospital care is feeling like they aren't involved in their own care or their own future. So it's important to include your senior parent in their care by talking about future doctor's appointments, physical therapy appointments, or other medical care that is coming up. Make sure they are aware of the treatment plan and what the doctor wants them to do to continue healing. By involving them in the care plan you are reassuring them that their opinion does matter.
Treat Them With Respect
It's tough sometimes to navigate the waters of trying to take care of a senior parent without treating them like a child or invalid, especially after they have been injured or had a medical crisis. But try to treat your senior parent the way you would treat a friend who has been injured or ill.
If you are considering senior home care in Spring Valley, TX, for an aging loved one, please call the caring staff at At Your Side Home Care. We will answer all of your senior care questions. Call today: (832)271-1600.
Latest posts by Donna Wrabel, LMSW
(see all)