Senior Home Care in Houston & Katy
At Your Side Home Care is a licensed home care agency with the state of Texas. Our owners Donna Wrabel, LMSW, and Rick Wrabel have personal involvement in every case our home care agency takes on. You will deal with one, or both, of them throughout the process from your initial contact to the implementation of services and beyond.
We have terrific caregivers who are hand picked by the owners. In addition to criminal background and reference checks, we spend many hours with these individuals before they are brought on to our staff. Caregivers are given assignments based on their background and experience as well as their "personality fit" with each client we work with. All of our caregivers pass the test our owners ask themselves, "Would we feel good about having this individual working with our family members?"
We Provide The Best Senior Home Care in Houston, Katy, Memorial, and the surrounding areas.
Use the form below to get instant information on pricing and services.
At Your Side Home Care aspires to be the preeminent home care agency focusing on safety, lifestyle enhancement and positive outcomes to help seniors continue to age in the comfort of their own homes.
Our Office Information
Hours: 8:00 AM – 5:00 PM, Monday through Friday
Phone: (832) 271-1600
A wide range of daily homecare services & senior services
Bathing, Grooming & Hygiene
Qualified At Your Side caregivers provide respectful assistance with bathing, dressing, hair styling, toileting, and other general hygiene needs.
Meal Preparation
Individual preferences, dietary restrictions and the importance of nutrition are always considered.
Medication Reminders & Safety Supervision
Trained caregivers work with client-specific medication profiles and ensure that all medication is taken promptly and in accordance with the physician's orders. Caregivers also provide general supervision and ambulatory assistance to ensure client safety and well-being.
Transportation/Errands
At Your Side aides are happy to help your loved ones travel to medical appointments and assist with occasional shopping and other local errands.
Companionship
Freedom from loneliness is crucial to mental health, particularly for seniors. At Your Side caregivers are more than employees - they're friends who provide conversation, entertainment and daily emotional support.
Chore Services & Light Housekeeping
Basic every day household chores are performed by At Your Side caregivers upon request.
Family Respite
At Your Side makes it possible for family caregivers to take time off worry-free. We'll take care of everything so you can attend to your own needs, enjoy periodic breaks or a much-needed vacation.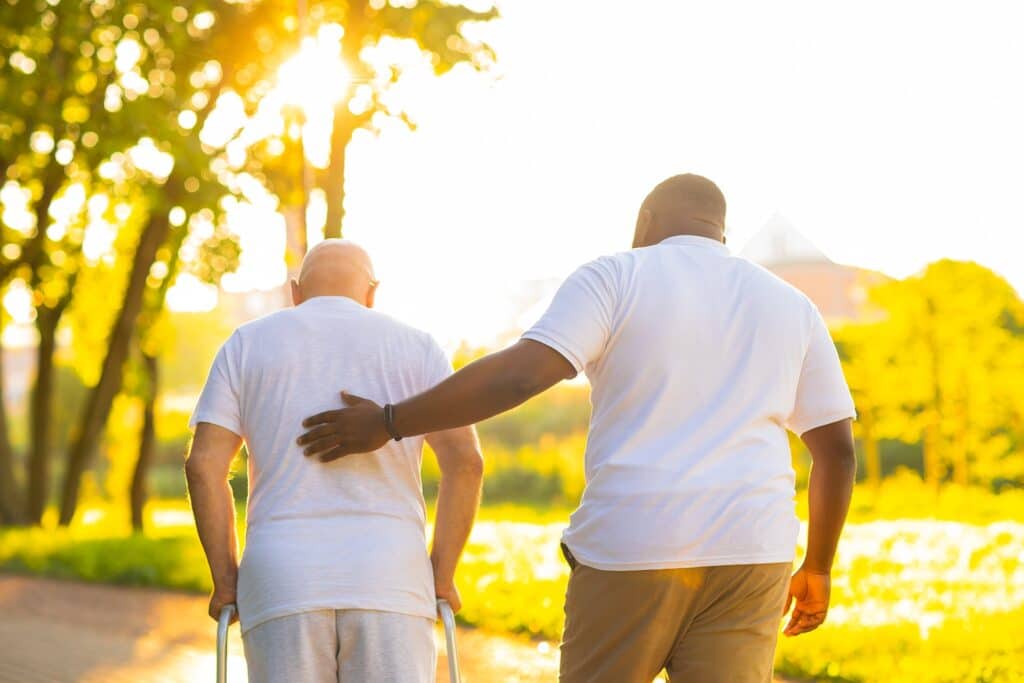 Is senior home care the solution you're looking for to help you or your loved one stay home instead of going to an assisted living facility or nursing home?
Home help for seniors is becoming increasingly popular as people look for ways to age in place as long as possible.
There's a lot to know about senior home care, though. What is it? How much does it cost? Will Medicare pay for it? How do you find the right caregiver? Here's what you should know about home help for seniors.
What Is Senior Home Care?
Senior home care is non-medical home help for elderly people who need assistance with things like transportation, companionship, housekeeping, cooking, and activities of daily living (ADLs) like bathing, dressing, and toileting.
How Home Care Services Help You Age in Place
According to an AARP survey, 76% of Americans age 50 and older want to remain in their home as they age, but only 46% think they will actually be able to (1). Home care services help handle some of the tasks that seniors start to struggle with as they age, so they can remain independent longer.
-"76% of Americans age 50 and older want to remain in their home as they age, but only 46% think they will actually be able to."
What Services Are Offered by Senior Home Care Organizations?
While each company may offer slightly different services, you can generally expect one or more of the following types of home care:
Companion care

provides companionship, light housekeeping, cooking, transportation, help with errands, and other basic caregiving tasks.

Personal care

offers the benefits of companion care plus assistance with activities of daily living like dressing, bathing, feeding, and toileting.

Respite care

provides a break for people who otherwise care for their loved one full-time. That may be for a few hours each day while the primary caregiver works or a few days at a time if the primary caregiver goes out of town.

Home health care

includes things like nursing, medication management, physical therapy, speech therapy, and other medical care. While some home care organizations also offer home health care, many do not.
Who Can Benefit from Senior Home Care?
In general, people who benefit the most from elderly home care are seniors who:
Struggle with mobility and need help getting around their home

Need transportation to appointments, errands, and friends' homes

Have mild cognitive decline due to Alzheimer's or dementia

Need help with ADLs like toileting, bathing, and feeding

Are isolated, lonely, and at risk for depression

Need help with housekeeping, cooking, and other errands
Home Health vs. Home Care: What's the Difference?
In short, home caregiver services offer non-medical assistance, while home health care provides medical care in the home. If it's something you would usually have to go to a doctor for, it's probably home health rather than home care.
What Are the Levels of Senior Care?
The levels of senior care, from the least to the most hands-on, are:
Companion care

, for seniors who need company and help with nonmedical tasks in their own home.

Personal care

, for those who also need assistance with ADLs at home.

Home health care

, for elderly people who are homebound and need medical care.

Assisted living facility

, for those who want to live in a place with all the services they need, assistance with ADLs and some medical care.

Memory care

, for people living with Alzheimer's or dementia.

Nursing home

, for seniors who need full-time care.
How Much Does Home Care Cost?
Home care costs vary widely across the country, from an average of $17 an hour in Louisiana to more than $31 an hour in Washington state. According to Genworth's annual Cost of Care Survey, the nationwide average in 2020 was $23.50 for homemaker services and $24 an hour for home health aides (2).
If you or your loved one need help 44 hours a week or fewer, home health care is slightly more expensive than assisted living and much less than a nursing home. Based on 44 hours a week of home care, national monthly averages for each type of living situation are:
Homemaker services: $4,481

Home health aide: $4,576

Assisted living facility: $4,300

Nursing home (semi-private room): $7,756

Nursing home (private room): $8,821
-"If you or your loved one need help 44 hours a week or fewer, home health care is less expensive than a nursing home."
Does Medicare Pay for Senior Home Care?
No, Medicare Part A and B do not pay for home care if it is the only assistance you need (3). However, it may cover senior home care if you meet all these conditions:
A doctor certifies that you are homebound, AND

A doctor certifies that you need intermittent skilled nursing, speech-language pathology, physical therapy, or occupational therapy, AND

You are getting services under a plan of care created and reviewed regularly by a doctor.
Some Medicare Supplement and Medicare Advantage plans may cover senior home care. Check your plan for details.
Finding the Right Home Care Services for You
It can be scary trying to select the perfect home caregiver services to suit your needs. Here are some questions the Mayo Clinic suggests asking any company or caregiver you are considering (4):
Are you licensed by the state?

How do you provide seniors with high-quality care? 

What type of employee screening do you do? Can I get references for anybody who might be caring for me or my loved one?

What credentials does the aide have?

Do you provide continuing education for your caregivers?

How do you handle billing and expenses?

What services will be provided?
How Do I Know if My Loved One Needs Home Care?
Although the signs will look different for everyone, here are a few signs that your loved one may benefit from home care:
Reduced mobility

Inability to drive

Falls or other injuries or accidents

Decreased muscle mass or other weight loss

Increased forgetfulness

Unkempt home, dirty clothing, poor personal hygiene

Isolation or signs of loneliness
Loneliness alone should be enough reason to provide companion care for your loved one. According to Anthony D Ong, Bert N Uchino, and Elaine Wethington:
"Increasing evidence suggests that perceived social isolation or loneliness is a major risk factor for physical and mental illness in later life (5)."
If your loved one is ready for senior home care, contact us today. We'll help you find the perfect solution to help them age in place and maintain their independence.
References
AARP, 2018 Home and Community Preferences: A National Survey of Adults Ages 18-Plus, https://www.aarp.org/research/topics/community/info-2018/2018-home-community-preference.html

Genworth, Cost of Care Survey (2020), https://www.genworth.com/aging-and-you/finances/cost-of-care.html

Medicare, Home Health Services, https://www.medicare.gov/coverage/home-health-services

Mayo Clinic, Home Care Services: Questions to Ask, https://www.mayoclinic.org/healthy-lifestyle/healthy-aging/in-depth/home-care-services/art-20044609

Anthony D Ong, Bert N Uchino, and Elaine Wethington, Loneliness and Health in Older Adults: A Mini-Review and Synthesis, https://pubmed.ncbi.nlm.nih.gov/26539997/
Our Houston Home Care Service Area