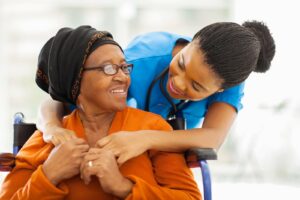 Companionship for seniors aging in place can take on many forms, depending on the needs of your loved one. It may involve conversation, playing games, watching movies, or participating in hobbies and activities that the senior enjoys. Companionship may also include accompanying the senior on outings, such as shopping or attending events. Below are five key benefits of companion care at home for seniors:
Reduces The Feelings of Loneliness
Home care assistance helps seniors to feel less isolated and lonely, which can have a positive impact on their mental health. Many seniors who require home care services are isolated and have limited opportunities for social interaction. This can lead to feelings of loneliness, depression, and anxiety.
Senior home care services can provide seniors with regular social interaction and companionship. A caregiver can spend time with the senior helping to provide conversation, playing games, watching movies, or participating in hobbies and activities that the senior enjoys.
Promotes Social Interaction
A caregiver will be able to spend time with the senior. They will help them engage in conversation and participate in activities that the senior enjoys. This will help the seniors to maintain their cognitive function, memory, and communication skills. In addition, companion care at home can provide seniors with opportunities to socialize with their friends, family, and neighbors along with attending events they enjoy.
With this type of care, seniors can stay connected within their communities by participating in community activities like volunteering or attending senior centers. This helps seniors maintain their sense of purpose and improve their overall quality of life.
Provides Emotional Support
Many seniors who require in-home care may be dealing with health issues, loss of independence, or other life changes that can be emotionally challenging for them to deal with by themselves. Companion care at home provides services that can help with emotional support by being there for the senior, listening to their concerns, and providing empathy and compassion.
In addition to providing emotional support, these companions can help seniors manage their mental health and cope with difficult situations as they age. They can help by providing encouragement and motivation to your loved one so seniors can maintain a positive outlook on their lives.
Increases Physical Activity
Having an in-home service professional care for loved one can encourage seniors to participate in physical activities, such as going for walks, playing games, or engaging in other hobbies. By maintaining physical activity, this can help to improve their physical health and overall well-being. As we age, it becomes more and more difficult to maintain good physical activity levels due to health issues, limitations, and other factors, however keeping seniors active in their daily lives is important for maintaining their health.
Improves Overall Quality of Life
In-home care for seniors provides them with a sense of purpose and connection, which can improve their overall quality of life and sense of well-being. Aging can present a variety of challenges, including health issues, limited physical activity, and social isolation, which can affect a senior's quality of life. Home care services can provide support and assistance to help seniors overcome these challenges while also providing them with a companion.
In addition to these benefits, companion care at home can provide peace of mind for family members that were trying to be the home care provider for their loved ones along with their daily lives. Knowing that your senior is receiving both physical, and emotional support and overall care can really help to ease the mind. Overall, companionship is an essential aspect of senior care that can significantly improve the quality of life for your loved ones who want to stay at home as they age.
If you are considering companion care at home in Cinco Ranch, TX for an aging loved one, please call the caring staff at At Your Side Home Care. We will answer all of your senior care questions. Call today: (832) 271-1600.
Latest posts by Donna Wrabel, LMSW
(see all)