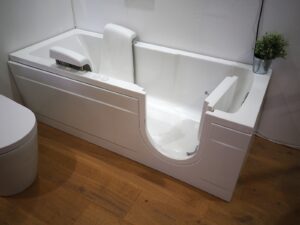 The bathroom can be a dangerous place for the elderly. Almost a quarter million teens and adults slip and fall in the bathroom each year, and 33% of the elderly who fall, need to be admitted to the hospital after their fall. If you are caring for an aging loved one in your home or theirs, making sure their bathrooms are a safe environment is important.
Depending on your loved one's mobility and independence, you might be able to simply add a few items to each bathroom to make it safer or you might need to hire someone to provide personal care at home in the form of bathing and grooming. A personal care at home provider can help your loved one get in and out o the bathtub and help with shampooing and other tasks that often require bending and twisting.
Unless you're planning on having someone provide personal care at home around the clock, you will need to make some safety changes to your loved one's bathrooms so that they can use the room without fear of falling. Here are five tips you can do today.
Declutter
Tripping over wet towels on the floor or bumping into cleaning materials propped in the corner can be a real concern for your elderly loved one. Especially during those middle-of-the-night visits where she's still a little bit asleep as she enters the bathroom. Making sure those bathrooms don't have anything to trip over or stumble around will help reduce the risk of falling.
Make sure it's well-lit and install a nightlight
Lighting also helps prevent falls so if that first step of decluttering got forgotten, or if the corner of the rug is turned up, she's more likely to see it before tripping over it. A motion-activated nightlight can help keep a bit of light in the room for overnight visits without having to turn on the overhead light, creating too much glare and light and making it harder to see.
Add non-slip flooring in the tub
Easily purchased at a home store and then easily affixed, having non-slip flooring in the tub and shower can prevent your loved one's feet from sliding out from under her when she's taking a shower. You should also have something slip resistant for when she steps out of the shower as that is often one of the most common places for the feet to slip out from under a person and cause a hard fall onto the bathtub wall.
Add grab bars
Depending on how your loved one needs help, you might consider adding grab bars next to the tub, along the wall of the shower, and possibly next to the toilet if she struggles with sitting and getting back up.
Keep items within reach
Finally, make sure all items your loved one needs to use in the bathroom are well within reach. Clear out top shelves if they require her to stand on her tiptoes to reach them.
Making these simple changes now can help prevent a fall in the future. Relying on the help of personal care at home sooner rather than later is a great first step in the right direction.
Reference
https://visual.ly/community/Infographics/home/bathroom-falls-injuries-statistics-causes-prevention
If you are considering personal care at home in Katy, TX for an aging loved one, please call the caring staff at At Your Side Home Care. We will answer all of your senior care questions. Call today: (832) 271-1600.
Latest posts by Donna Wrabel, LMSW
(see all)