In-Home Care in Houston & Katy
At Your Side Home Care is a licensed home care agency with the state of Texas. Our owners Donna Wrabel, LMSW, and Rick Wrabel have personal involvement in every case our home care agency takes on. You will deal with one, or both, of them throughout the process from your initial contact to the implementation of services and beyond.
We have terrific caregivers who are hand picked by the owners. In addition to criminal background and reference checks, we spend many hours with these individuals before they are brought on to our staff. Caregivers are given assignments based on their background and experience as well as their "personality fit" with each client we work with. All of our caregivers pass the test our owners ask themselves, "Would we feel good about having this individual working with our family members?"
We Provide The Best In-Home Care in Houston, Katy, Memorial, and the surrounding areas.
Use the form below to get instant information on pricing and services.
At Your Side Home Care aspires to be the preeminent home care agency focusing on safety, lifestyle enhancement and positive outcomes to help seniors continue to age in the comfort of their own homes.
Our Office Information
Hours: 8:00 AM – 5:00 PM, Monday through Friday
Phone: (832) 271-1600
A wide range of daily homecare services & senior services
Bathing, Grooming & Hygiene
Qualified At Your Side caregivers provide respectful assistance with bathing, dressing, hair styling, toileting, and other general hygiene needs.
Meal Preparation
Individual preferences, dietary restrictions and the importance of nutrition are always considered.
Medication Reminders & Safety Supervision
Trained caregivers work with client-specific medication profiles and ensure that all medication is taken promptly and in accordance with the physician's orders. Caregivers also provide general supervision and ambulatory assistance to ensure client safety and well-being.
Transportation/Errands
At Your Side aides are happy to help your loved ones travel to medical appointments and assist with occasional shopping and other local errands.
Companionship
Freedom from loneliness is crucial to mental health, particularly for seniors. At Your Side caregivers are more than employees - they're friends who provide conversation, entertainment and daily emotional support.
Chore Services & Light Housekeeping
Basic every day household chores are performed by At Your Side caregivers upon request.
Family Respite
At Your Side makes it possible for family caregivers to take time off worry-free. We'll take care of everything so you can attend to your own needs, enjoy periodic breaks or a much-needed vacation.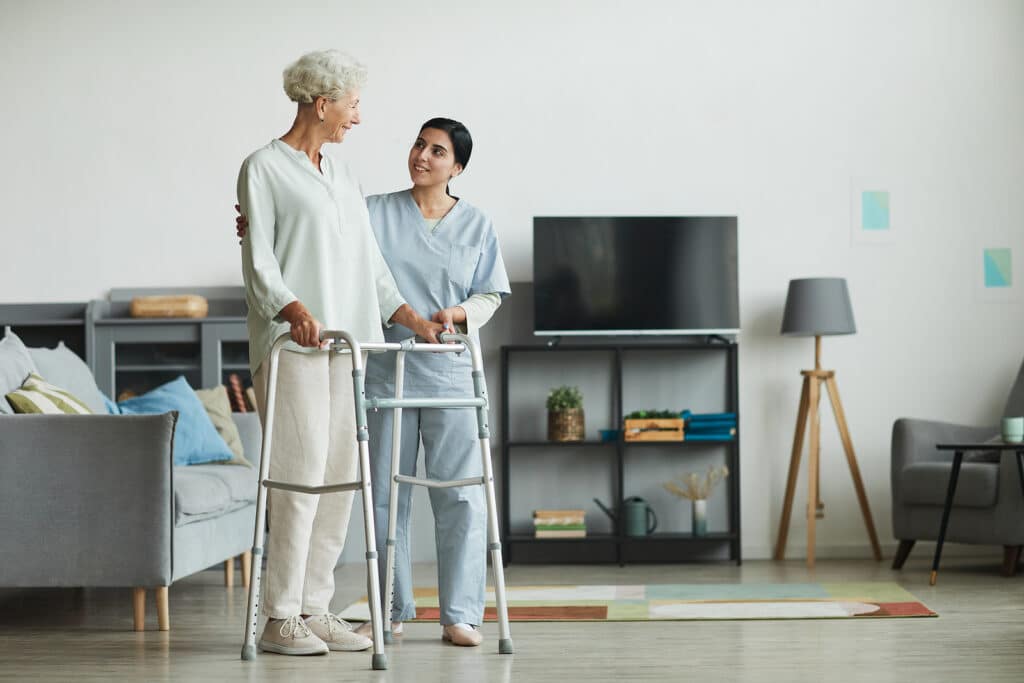 Have you found that a loved one is struggling to care for themselves and perform basic daily activities? Perhaps you're in need of assistance yourself, but don't want to leave the comfort of your own home. These are issues that can be resolved with quality in-home care. 
In-home care consists of a trained professional visiting an individual's home to provide assistance with things like bathing, dressing, physical therapy, cleaning, and general tasks around the house. It is typically used as a supportive service for senior citizens or people with medical conditions that make daily activities difficult.
If you are seeking in-home care services for yourself or a loved one, you likely have many questions about how it all works. Rest assured, all of your questions and concerns about in-home care will be answered in this comprehensive guide.
What is In-Home Care?
In-home care refers to an individual receiving assistance with activities while remaining in their home, rather than visiting or residing in a facility. The primary goal of in-home care is to give the individual the assistance that they need while allowing them to remain in the comfort of their own home.
Depending on the needs of the individual, in-home care can occur in several different ways. There are at-home senior services, which look to help elderly people with basic daily activities. Then there is health-related in-home care, which is for patients with injuries, disabilities, or chronic illness. You can learn more about the various types of in-home care below.
Types of In-Home Care
There are three main types of in-home care (also called private duty home care) that an individual may receive, depending on their unique needs. These include:
Personal Care
Also known as companion care or senior care, this type of in-home care is typically designed for senior citizens. 
With personal care, a home health aide will visit the home to help the individual with basic daily activities. This usually consists of bathing, dressing, meal preparation, and household tasks. They may be assisted with any medical needs, if necessary. 
According to the National Institute on Aging, this type of care, often referred to as "aging in place" gives seniors the feeling of comfort and independence as they age, since they get to remain in their own home. (1)
Companion Care
In-Home Companion Care includes activities like light laundry, light housekeeping, meal preparation, errands, grocery shopping, accompanying to appointments, conversation, assistance with pet care, getting the mail, and general help around the house.
Home Health Care
Home health care refers to physician-directed services that help a patient recover from an injury or surgery. In this type of in-home care, a medical professional will visit the home and assist the patient with basic activities, including attending to medical needs that aid in their recovery.
When is It Time to Arrange In-Home Care?
You may find yourself searching for terms like "in-home help for seniors" or "in-home caregiver services" online, but is it really time to seek in-home assistance for yourself or your loved one? There are several signs you should watch out for to determine whether someone is in need of extra assistance at home.
According to Dr. Ardeshir Hashm at the Center for Geriatric Medicine at Cleveland Clinic, the key is "to pick up clues early, before they start to impact day-to-day life in a significant way." (2)
If you're wondering whether or not in-home services are needed, look for the following indicators below:
They have difficulty with mobility

Their appearance has become unkempt

Their home is consistently messy

They are not keeping up with medication

They are losing weight or not eating properly

They have medical needs that require the aid of another person
These signs may indicate that it's time to discuss options for in-home care.
Frequently Asked Questions About In-Home Care 
Before arranging to have in-home care for yourself or a loved one, you may still be wondering about a few things. Below are some of the most common questions that individuals have when seeking in-home care for themselves or a loved one.
How Much Does In-Home Care Cost?
The cost of in-home care services varies depending on the individual's unique needs. For example, in 2015, the average cost of senior-citizen in-home care was at a monthly rate of $700 for 8 hours per week. This was for basic in-home care, providing companionship services. 
For more extensive care, say about 44 hours per week, the cost jumped up to a monthly rate of $4,000. 
Costs do vary by location, with states like New York seeing rates as high as $7,000 per month for home health aide services. (3) 
Is In-Home Care Covered By Insurance?
Most private insurances and programs like Medicare will not cover long-term in-home care services for seniors. Coverage is typically only available for more short-term care, like the physician-directed home health care patients receive after an injury or hospital stay. 
How Long Does In-Home Care Last?
The duration of in-home care services depends on the needs of the patient or individual. If it is in-home health care for someone struggling with an injury or recovering from surgery, it may last weeks to months or until the patient has recovered. 
In cases of chronic illness or disability, the patient may need ongoing care for the remainder of their life.
In-home care services for the elderly are typically for the remainder of the individual's life. In some cases, the individuals or their family members may decide that they can no longer remain in the home and must be moved to a live-in nursing home facility or assisted living home. 
This is often the case with patients who are suffering from dementia or advanced Alzheimer's disease and can no longer safely remain in their homes.
Finding In-Home Care Near You
If you feel that you or a loved one is in need of in-home care, there are many resources you can reach out to for assistance. From choosing an appropriate care provider to figuring out how to pay for in-home services, there are dedicated professionals who can guide you through the process to ensure your loved one gets the support they need.
References
NIH: Aging in Place: Growing Older at Home,

https://www.nia.nih.gov/health/aging-place-growing-older-home
AARP: How to Assess When An Older Adult Requires Caregiving Assistance,

https://www.aarp.org/caregiving/home-care/info-2021/assessing-need-for-caregiver.html?intcmp=AE-CAR-BB-LL1
Our Houston Home Care Service Area