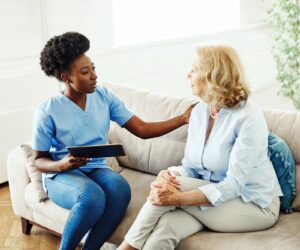 You're an only child and your mom's need for help each week is becoming exhausting. You have work, a family of your own, and your mom's care needs to balance each day. Before you burn out, look into the benefits of respite care from a caring and qualified in-home care provider.
Understand What Respite Care Is
Respite care is a service where you have a professional caregiver coming in as often as you want to help out. You can use that time to sleep, go to work, run errands, or have time to yourself. While a caregiver is with your mom, you might want to go to the beach and unwind. You might prefer to go to lunch with your friends.
It's hard to ignore the importance of respite care. It gives you the chance to take care of yourself. You have the chance to socialize, de-stress, or attend to other pressing matters related to self-care.
When you're ready to step back into the role of family caregiver, you return and the professional caregiver leaves until the next scheduled break. You might want respite care services a few times a week, once a week, or until you've recovered from an illness.
The caregivers offering respite care services can help with housework and laundry. They can take your mom to the store or her appointments. They'll cook meals, prepare snacks, join her on walks, help her schedule appointments or repair technicians if something needs fixing, and bring in the mail.
Caregivers can help your mom walk her dog, pay bills, brush and floss her teeth, and get showered and dressed. If she has errands to run, her caregivers help. Medication reminders, sheet and towel changeovers, and tidying up are other services that caregivers offer with respite care.
Why Is It So Important?
Why is respite care so important for a family caregiver? The American Psychological Association did a study on unpaid caregivers and found they're three times more likely to have suicidal thoughts or start using alcohol and drugs to cope with the extreme stress.
Sixty-seven percent have had at least one mental health symptom. Three in ten unpaid caregivers experience clinical depression, severe anxiety, or panic attacks. As much as your focus may be on your mom's care needs, your work duties, and your children, if you still have children at home, you have to take care of yourself first.
Family caregivers need to focus on self-care first and others second. Your emotional, mental, and physical health cannot go ignored. When was the last time you did something for yourself? It's time to get started.
It's important to take breaks as much as you need. Exhaustion and caregiver burnout will impact your ability to help your mom. Talk to an in-home care specialist to learn more about respite care services. Have in-home care aides help your mom with her daily tasks while you have time off.
Sources:
https://www.apa.org/monitor/2020/11/numbers-stress-caregivers
If you are considering in-home care in Spring Branch, TX for an aging loved one, please call the caring staff at At Your Side Home Care. We will answer all of your senior care questions. Call today: (832) 271-1600.
Latest posts by Donna Wrabel, LMSW
(see all)