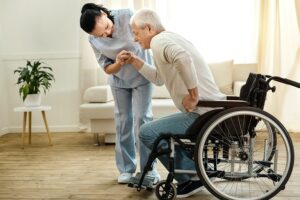 Your senior might not realize that some of the tasks that are becoming more of a challenge for her, including personal care tasks, are ones that she can get help managing. Personal care at home offers assistance with dressing, bathing, toileting, skincare, and so much more. Depending on the type of tasks your senior needs help managing, she can very easily resolve those challenges.
Personal Care Providers Get to Know Your Senior
Personal care at home is there to help your senior with whatever they can. That means that care providers get to know your elderly family member. They learn her preferences from baths to showers, what types of products she prefers to use, and so much more. The goal is for them to learn as much as possible so that they can be as helpful as possible to your elderly family member.
They Assess Her Needs, Too
But they're also there to meet needs as well as preferences. If your elderly family member is diabetic, for instance, she may need specific help with foot care and skin care. Home care providers are able to take care of those tasks for your elderly family member, ensuring that any wounds are cared for properly and that anything that requires additional attention is handled.
Personal Care Is about Helping Your Senior Feel Comfortable
Often seniors aren't excited about personal care at home because of the embarrassment factor. But the reality is that these caregivers are there to make your elderly family member's life easier and to keep her as comfortable as possible. Helping your elderly family member to manage personal care tasks is about hygiene and making sure that your senior smells and feels fresh. This is a lot less embarrassing over time.
Changes to Your Senior's Needs Get Implemented
When your senior's needs change, it's important that care adjusts as well. Personal care professionals are there to keep up with what your elderly family member needs and to provide for those needs. For instance, if your elderly family member's mobility changes, caregivers can help her to use her assistive devices, get up from a seated position, and safely move around her home. To avoid bed sores, they can assist with transfers and changing positions.
Your Senior Maintains Her Dignity and Her Independence
Above all, your elderly family member has the assistance that makes her life better while she also maintains her independence and her dignity. The tasks that she's able to continue handling herself are ones that she can continue to manage. Caregivers only assist with the tasks that your senior truly needs help handling.
As your elderly family member gets used to having help from personal care providers in her own home, it's so much easier for her to understand the benefits that this type of care offers to her. She doesn't have to struggle with care tasks or skip doing them entirely simply because they're difficult or embarrassing. She's got the help that she needs, right there with her.
If you are considering personal care at home in Spring Branch, TX, for an aging loved one, please call the caring staff at At Your Side Home Care. We will answer all of your senior care questions. Call today: (832)271-1600.
Latest posts by Donna Wrabel, LMSW
(see all)