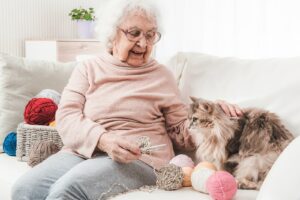 If you haven't heard of it, Rainbow Remembrance Day is a day to remember and celebrate the pets that have enriched the lives of your family. It's based on the common saying that when a pet passes on, it crossed the rainbow bridge into the next world where they wait patiently for their owners to come and find them again.
Whether or not your elderly parent and you believe in the Rainbow Bridge, if your parent has lost a pet recently, August 28, might be a good day to take a little time to remember what made that pet so special to your parent. Many of these activities can be done alone, with other family members, or with an elder care provider.
Have a little ceremony
Sometimes a pet passes at a time in life when there just isn't the ability to have a "proper" goodbye. August 28 can be a great day for your elderly parent to plan a little ceremony to say goodbye. It can be as simple or elaborate as your parent desires but should focus on what made your parent's pet so special to him. It could be strolling along the pet's favorite walking paths or planting a new plant in the pet's honor.
Create a memento
Your parent might like having a memento on him at all times to remember his lost pet. Perhaps it's adding the pet's nametag to your parent's key ring or having a locket with the pet's photo in it. Your elder care provider can help your parent create something to remember his pet, even if it's a photo of his pet on the lock screen of his phone.
Share the memories
Ask your parent to tell you again about the first time he got his pet. What was it like when the pet first moved in? What were the pet's favorite foods? Did the pet ever make a mess or break anything? If your elder care provider has never met the pet, have your parent share some photos with her. It can bring back warm and sweet memories for your aging parent to revisit what he loved so much about his pet. It may also make him sad, so be ready to offer comfort as needed as you walk down Memory Lane.
Use social media
If your parent is on social media, like Facebook, help him create a photo montage or even a short video that he can share with his friends and family on Facebook. It's a great way to connect with those both near and far, and everyone always enjoys seeing lots of cute pet photos on social media.
Think about a new pet
Depending on where your parent is living, and what his lifestyle is like, it might be time to think about adopting another pet. This is a big step and requires lots of serious discussions, but if your parent and your family are ready to adopt a new pet, you might find your parent's spirits lifting at the idea of a new pet to love.
If you are considering elder care in Garden Oaks, TX, for an aging loved one, please call the caring staff at At Your Side Home Care. We will answer all of your senior care questions. Call today: (832)271-1600.
Latest posts by Donna Wrabel, LMSW
(see all)