Does Your Mom Have "Goals" for Aging?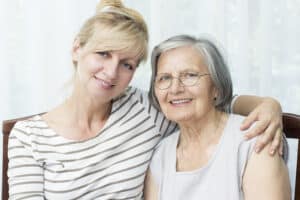 Have you ever asked your mom if she has goals as she ages?
Does she have a care plan in mind?
She does need to take certain things into consideration. If something happens and she doesn't have legal protections in place, her wishes may not be followed.

Sit down with your mom and other important family members or friends. Have a discussion about her goals for aging. Once she has told you what she wants, make sure she knows what to do next in order to assure things go as she plans.

Do Any Chronic Conditions Run in the Family?

Find out if there are any chronic health conditions that run in the family. Some health conditions can be genetic. If your mom's parents both had heart disease, she has a higher risk. If they had colorectal cancer, high blood pressure, or high cholesterol, there's a chance she will as well.

If she knows what chronic conditions are likely, she needs to go for regular tests to make sure she's healthy. The earlier many conditions are diagnosed, the sooner she can get treatments or go on medications.

Ask Her Where She Wants to Live

If your mom wants to downsize, make that a priority. She'll know if the family home is where she wants to stay or if she's ready for a smaller, more manageable home.

She may want to get a small condo where someone else mows the yard and clears snow. She might want to be in a retirement community surrounded by others her age. Once you know, help her get her house ready for sale and make the move.

Where Does She Stand on Legal Protections?

Does your mom have a living will or advance directives on file with her doctor? If she had a stroke, would the doctor know if she wants a feeding tube or to be on a ventilator? Has she had power of attorney documents created and filed with her doctor?

Do You Know Her Medical History?

How much of your mom's medical history is known? If she needed an MRI, would you know if she has any metal pins or plates in her body? Do you know if she has any allergies to things like aspirin, latex, or penicillin?

In an emergency, you might need to know any surgeries your mom has had. Can you name them all? Do you know the prescriptions she's on without going home and looking at the bottles? You need to know these facts about your mom's health.

Talk to an Elderly Care Agency

Call an elderly care agency to learn more about area services and what policies are. Some agencies may require a three-hour minimum, but others may be more flexible. Caregiver prices are another thing you should ask about and decide how to best make caregivers affordable for your mom.
At Your Side Home Care has been serving the West Houston and Katy areas for many years, providing in-home care services for seniors and families. We are experts on resources and information for our local area. We are family owned and operated. Call us today with questions about in-home elderly care needs. We are here for you! (832) 271-1600
Latest posts by Donna Wrabel, LMSW
(see all)