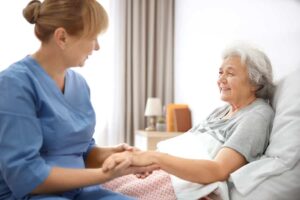 One of the hardest things to do is try to take care of a senior parent when you live far away from that parent. Everyday people have to try and figure out how to best meet the needs of a senior parent when picking up their lives and moving to another place far always just isn't possible. But it is possible to help your senior parent be happy and healthy and safe at home even though you may live in another state or even all the way across the country. If you have been trying to figure out the best ways to help your senior parent when you live far away, these tips can help:
Hire 24-Hour Home Care
24-hour home care will be there for your senior parent when you can't be. With 24-hour home care someone will be with your senior loved one all the time and you won't have to worry about them being alone. The cost of 24-hour home care is much more affordable than most people think, and the peace of mind it gives is priceless. If your senior parent were to fall or get hurt a care provider would make sure they get the help they need so that you wouldn't have to worry about them being alone until you could get there.
Build A Network You Can Trust
If you are going to be far away from a senior parent that is getting older you will need a network of people that you can trust to help you. 24-hour home care is a great addition to friends, family members, and neighbors that you can trust to take care of your senior parent and their home. You will need to create a network of home maintenance and service providers, care providers, friends and neighbors, and other family members who can help do the things that your senior parent will need to have done.
Establish Yourself As The Contact Person
It's important that doctors, emergency personnel, and other people who may end up helping your senior loved one know that you're the one they need to contact in an emergency. Make personal phone calls to the doctor and other professionals so that you stand out in their minds. Make sure that your phone number and contact information is at the top of every medical record and piece of paperwork that has to do with your senior loved one. It's an excellent idea to get your senior parent enrolled with a geriatrician who will be in charge of all their care and make sure the geriatrician knows how to contact you.
Check In Daily
A quick daily phone call to check in with your senior parent is a fantastic way to keep your relationship strong and make sure that they are ok on a day-to-day basis.
If you are considering 24-hour home care in Cinco Ranch, TX, for an aging loved one, please call the caring staff at At Your Side Home Care. We will answer all of your senior care questions. Call today: (832)271-1600.
Latest posts by Donna Wrabel, LMSW
(see all)