Should Your Parents Consume Low-Fat, Non-Fat, or Full-Fat Dairy Products?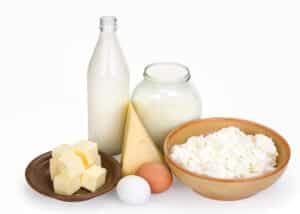 June's National Dairy Month celebrates everything dairy offers. It's a good time to look at the foods that ensure your parents get extra calcium and vitamin D to help with strong bones. Osteoporosis is a risk as you age. Low bone density ups the risk of a fracture if your mom or dad falls.
Health.gov recommends 2 to 3 cups of dairy per day. The amount depends on a person's caloric intake. A 1,600 to 2,000-calorie diet should include 3 cups of dairy while a 1,000-calorie diet should be at the 2-cup mark. What are the best forms of dairy? There have been differences of opinion when it comes to non-fat, low-fat, or full-fat dairy. Which is the right type for your mom?
The Push for Low-Fat and No-Fat Dairy
Thirty years ago, the movement towards fat-free and low-fat dairy started. That trend continued. It's still recommended in the Dietary Guidelines for Americans that fat-free and low-fat dairy are better choices. A more recent study published in the American Society for Nutrition's review journal says full fat may not be as bad as people think.
Does that mean your mom and dad should switch to full-fat items? Not necessarily. Your parents need to talk to their doctor. Their doctor will have the most current information and be able to offer guidance. You may find their doctor recommends low-fat or fat-free milk to drink, but full-fat cheese and full-fat Greek yogurt are better. It comes down to watching saturated fat intake.
What Should Your Parents Eat?
Where should your parents get their calcium and vitamin D? A mix of milk, yogurt, and cheese are ideal. You can mix yogurt or kefir into a morning smoothie for them. Make a yogurt parfait with fresh fruit and yogurt.
They can get their calcium and vitamin D in other ways, too. They don't have to overdo the dairy to keep their bones strong. Sardines spread on whole-grain toast provides a lot of calcium. Broccoli contains calcium, and broccoli rabe contains even more. Collard greens, bok choy, and kale are also high in calcium.
Some foods are fortified with calcium and vitamin D. Breakfast cereals, fruit juices, and almond milk are all examples of high calcium foods. They can pair these with dairy for a calcium-rich diet that helps with bone strength.
Are you worried that your parents aren't eating enough? Do you fear their diet is not ideal? Talk to your family about meal preparation services. An elder care agency will talk to you about the options available to your parents. They may want elder care services like grocery shopping. Your parents may benefit from companionship and help to find recipes that appeal to them. Caregivers help with all of that.
Sources:
https://health.gov/our-work/food-nutrition/2015-2020-dietary-guidelines/guidelines/appendix-5/
https://nutrition.org/which-to-choose-full-fat-low-fat-or-non-fat-dairy/
If you are considering elder care in Cinco Ranch, TX, for an aging loved one, please call the caring staff at At Your Side Home Care. We will answer all of your senior care questions. Call today: (832) 271-1600.
Latest posts by Donna Wrabel, LMSW
(see all)