Simple Ways to Be Kind When You Care for Picky Parents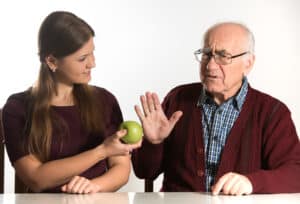 When your parents have difficult days, it can be hard to remember to stay calm. It can be hard to remain kind when you have a father who makes mean comments about your cooking or a mom who criticizes how you clean. You do need to stay calm. Here are ways to remain kind on the toughest days.
Breathe
One of the easiest ways to remain kind is by stopping and focus on breathing for a few minutes. Take a deep breath in, hold it for a count of five, and slowly exhale. Do this a few times. It helps increase hormones that reduce stress, which makes it easier to avoid saying something hurtful.
Change Focus
If your mom is hounding you about vacuuming, stop doing that task. Move to something else until she's busy doing her own thing. Try to pick a task that's in another room. If she asks why you stopped, you don't have to say anything.
Consider moving to a task that involves her. If she loves to garden, go outside and start weeding. When she's engrossed, say you're going inside to get a drink. Ask if she'd like something, too. While you run in to get the drink, you can finish vacuuming first.
Dance
If you ever watched Grey's Anatomy, you'll remember Christine and Meredith's random dance parties after a tough day. Dance parties do help ease stress.
When your parents are getting on your nerves, crank up some music, ignore them, and start dancing. It doesn't matter if you can dance, just move around. Sing if you want to. It's a good way to de-stress and burn off some angst. You never know. You might find them joining in, which means everyone reboots and returns to routines refreshed and happier.
Go for a Walk
Leave a picky parent and go for a walk. You don't have to go far. You just need to get outside and get fresh air. Deep cleansing breaths help you reset and return to your parents with a clear, calm mind. Walk around the yard or up and down the driveway. If the weather has you trapped inside, a walk up and down a hallway will work.
Are you taking breaks? If your parents can be challenging on certain days, you need to have time to yourself. Senior care affords you the chance to have those breaks. Use senior care aides to help your parents when you're out for a drive or taking a walk. Caregivers also help with meals, housework, and companionship. Arrangements can be made to meet your family's schedule.
If you are considering senior care in West Houston, TX, for an aging loved one, please call the caring staff at At Your Side Home Care. We will answer all of your senior care questions. Call today: (832) 271-1600.
Latest posts by Donna Wrabel, LMSW
(see all)