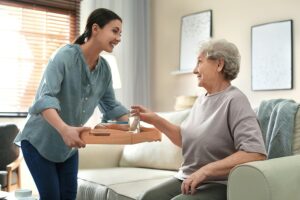 A healthy diet does not always solve every single health problem, of course, but it really is a must for seniors who want to remain strong and healthy. Having some strategies for keeping a family member's diet healthy makes this an easier task for family caregivers. It's also helpful to have support from senior home care providers, especially when caregivers are stretched thin with other responsibilities.
Increase Hydration
Most people don't think about hydration as part of nutrition, but it truly is. The body needs plenty of water in order to properly digest foods and to flush waste from cells and organs. Too many seniors don't get enough water each day and suffer from dehydration without realizing it. They can end up with serious health issues, including urinary tract infections and even seizures in extreme cases. Drinking even a little more water each day can make a big difference.
Promote a Variety of Foods
People who are picky eaters tend to stick with only a few foods, which can lead to malnutrition. That's because different foods contain a variety of vitamins, minerals, and other necessary nutrients. By promoting a diet that includes plenty of types of foods, seniors are far more likely to get all of the nutrients that their bodies need. Preparing those foods may not be easy, however, so putting solutions like hiring senior home care professionals in place can make eating a variety of foods so much easier.
Bump Up the Fiber Intake
Getting enough fiber is crucial for everyone, especially seniors. As with water and food variety, though, fiber might not be high on the list of nutrients to definitely include every day. Fiber is important because it can help with keeping cholesterol and blood sugar levels even, and it also supports healthy digestion. Including more fiber can be as easy as including foods like raspberries, avocados, or beans in more meals.
Read Labels for Added Salt and Sugar
So many seniors are on special diets to ensure that they're able to keep health issues under control. That might mean that avoiding added sugars and salt make the list of foods to avoid. The best way for caregivers to help seniors achieve this goal is to cook from scratch, which is a lot easier with help from home care providers. It's also important to read labels on prepared foods carefully.
Consult Medical Providers about Supplementation
Vitamin supplements are another way for seniors to get the nutritional boost that they need. But most medical providers recommend that anyone, including aging adults, gets the nutrients they need from their diet whenever possible. Sometimes supplementation is necessary, however, and family caregivers should always check with their senior's medical providers about whether supplements are the right way to go.
Paying attention to nutrition as much as possible helps to avoid bigger problems later on. A balanced and healthy diet is a lot easier to ensure seniors are getting when they have a little bit of help from senior home care providers.
If you are considering senior home care in Katy, TX for an aging loved one, please call the caring staff at At Your Side Home Care. We will answer all of your senior care questions. Call today: (832) 271-1600.
Latest posts by Donna Wrabel, LMSW
(see all)