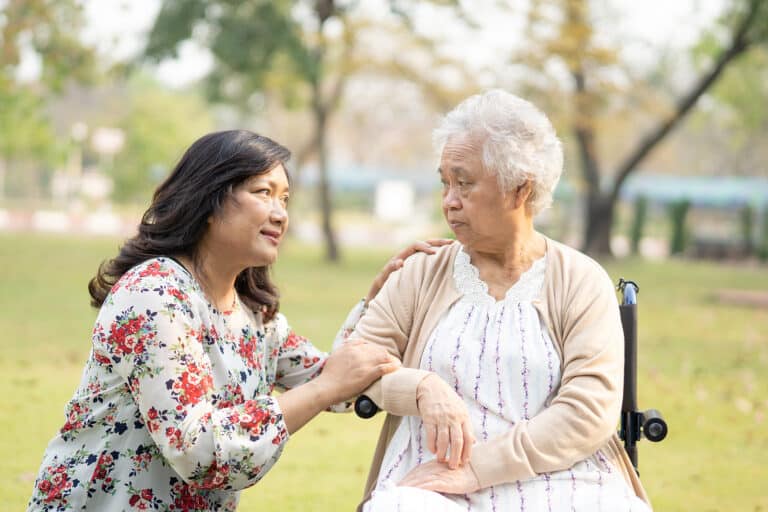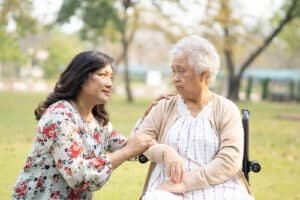 As seniors get older, it's very common for them to have trouble with personal hygiene. Seniors who have soreness in their hands or have trouble gripping things may not be able to easily brush their teeth or hair. And other hygiene tasks become difficult for them too. So does getting dressed, putting on makeup, shaving, and all the things that people do to look and feel their best.
It can be very awkward for the adult children for seniors to have to talk to their parents about hygiene. You may put off the conversation as long as possible because it's going to be difficult or embarrassing. That's normal. It's also very normal for a senior parent to not want to talk about any difficulties they're having with you.
One way to open up a conversation about hygiene is to suggest personal care at home. With personal care at home seniors get the help they need to maintain good hygiene without having to ask a family member for help with things like bathing or going to the bathroom. Some other tips you can use to have a productive conversation with a senior parent about their personal hygiene are:
Don't Have A Serious Conversation When Your Senior Parent Is Tired
When you need to have a serious discussion about an awkward or embarrassing subject it's always best to choose a time to talk when your senior parent is alert and awake and in a positive mood. Don't try to talk about hygiene issues when your senior parent is tired, hungry, or in a bad mood. It's also a good idea to let them know you want to have a serious conversation in advance so they don't feel blindsided.
Express Concern, Don't Criticize
Start the conversation by expressing your concern for their well-being. Use "I" statements to avoid sounding accusatory. For example, say, "I've noticed some changes in your personal care, and I'm concerned about your health and comfort." This approach helps convey your feelings without placing blame.
Give Specific Examples, But Use Positive Language
You should talk about specific things that you've noticed but without being rude or mean. For example, you could say that you've noticed their hair looks like it could use a wash and suggest going to the salon for a wash and set. Or mention that you notice their favorite sweater is stained and offer to wash it.
Always Be Empathetic
Let your senior parent know it's ok if they're having trouble and that you just want to help. Reassure them that you understand their feelings and are just trying to help.
Ask Questions, Don't Dictate
You don't want your senior parent to feel like you're dictating to them how things are going to be. Ask them about their feelings, and their capabilities. You might want start by asking them if they are having any trouble with day to day activities lately. Or, you can ask if they want to shop for some new clothes that might be easier to put on.
Talk About Practical Solutions
To keep the conversation positive offer some practical solutions that can make hygiene tasks easier for your senior parent. Talk about personal care at home, adding adaptive equipment to the bathroom like grab bars, or getting tools like toothbrushes designed for seniors with arthritis. Focus on solutions, not blame.
Offer Reassurance
Reassure your parent that your intention is to support them and maintain their dignity. Emphasize that you are there to work together to find practical solutions and make adjustments that enhance their comfort and well-being. And let them know that they can talk to you about any issues that they are having.
If you are considering personal care at home in Bay City, TX for an aging loved one, please call the caring staff at At Your Side Home Care. We will answer all of your senior care questions. Call today: (832) 271-1600.
At Your Side Home Care, provides exceptional home care for seniors and families in Houston, West Houston, Katy, Memorial, The Heights, Spring Valley, Garden Oaks, Hunters Creek, River Oaks, Hilshire Village, Galleria, Cinco Ranch, Spring Branch, Sugar Land, Missouri City, Richmond, Rosenburg, Piney Point, Bay City and surrounding areas.
Latest posts by Donna Wrabel, LMSW
(see all)