Four Ways for Your Dad to Become Involved in His Community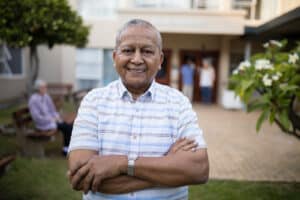 January 28th is Global Community Engagement Day. The goal is to get members of a community and businesses within the community to engage in meaningful ways. Is your dad engaged in his community? It's beneficial to his physical and mental health that he does not isolate himself. Here are ways to get him involved.
Volunteer
What community organizations need volunteers? If there is a local library that looks for volunteers to put books back on shelves, organize shelves, and help patrons, that could be a great volunteer opportunity for your dad.
He might want to volunteer at his local hospital by directing visitors from the information desk or helping out in the gift shop. He could help at a local after-school program that pairs children with adults to help improve reading skills.
Support a Local Business
Does your dad engage with any area businesses? If he has been going to a chain convenience store for his daily coffee, he should consider trying out a local independently owned coffee shop. Give them a chance and see if he likes it better.
He might find the cozy shop creates the right setting for him to sit down, chat with other patrons, and get to know those in his community. If they sell coffee to go, he could buy his coffee through them instead of a grocery store.
Help a Neighbor
Are there ways your dad could help a neighbor? He's noticed that his next-door neighbor hasn't weeded her flower beds since having a baby. Next time he sees her, he could ask if she'd like him to weed for him. He just needs to assert that there is no need to pay him or feel obligated in any way. He simply would love to stay active by helping out.
Brighten Someone's Day
The final way for your dad to engage in his community is by making someone's day. A stunning light display for a holiday will grab attention and cheer people up as they drive home after a busy day. He could put up red and pink lights for Valentine's Day or red, white, and blue lights for holidays like Memorial Day, the Fourth of July, or Labor Day.
Staying engaged within the community may require some guidance and help. If your dad doesn't drive, he'll need someone to drive him around. He may need someone at home to help him navigate the internet for online volunteering or for shopping online. Call an elder care agency to ask about companions.
With companionship services, your dad has someone to help him interact with his community. He'll be safe, supported, and not feel lonely as he ages at home with the helping hand of elder care.
If you are considering elder care in Spring Branch, TX, for an aging loved one, please call the caring staff at At Your Side Home Care. We will answer all of your senior care questions. Call today: (832) 271-1600.
Latest posts by Donna Wrabel, LMSW
(see all)