New Caregiver Profile – Rev. Dr. Theresa B.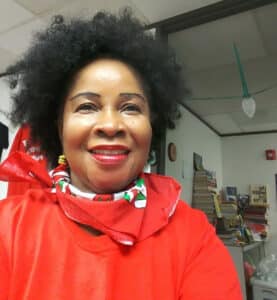 1.What is your favorite memory from work
My most exciting memory at work was during Hurricane Harvey August 17, 2017 to September 2nd 2017:
I got a call from the office to fill in at work on Night shift near the Memorial City Mall
Knowing the anticipated weather broadcast I had to stock up my suitcase for an unknown return back date.
Thanks to God for a good instinct and intuition.
As soon as I arrived at the clients home in less than an hour the heavy rain that flowed Houston seven days plus came down like an opened dam. Couple requested prayers..and God answered.
The couple called me Angel!
2. What do you like most about your job?
The LOVE and DIGNITY I experience at all times even when I feel less of myself.
Rudy once drove all the way on a heavy RAINY day to deliver what I needed to me at my work place. The way clients and the company feel like family, including founders Rick and Donna.
3. What do you like to do outside of work?
Family, church touching lives and helping the needy in my Ministry "New Vision Charity Prayer Center".
Secondly I am a Praise Worship Dancer and Singer, and currently learning how to play the piano.
4. What are two words that describe you?
Determination
Diligence
5. What caused you to get into caregiving initially?
My grandpa was a Senior Medical Personnel and my dad was a wonderful and very caring teacher.
Both of their loving and caring attributes impacted my life. I also grew up taking care of groups of children and helping the elderly.
Latest posts by Donna Wrabel, LMSW
(see all)