The Family Caregivers' Wheelchair Maintenance Checklist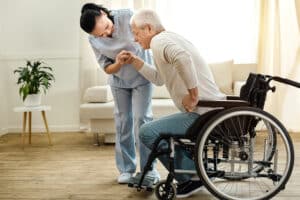 It's true that taking care of a wheelchair can extend its life and save substantially on repair costs, but more importantly, proper wheelchair maintenance can prevent injuries. An estimated 5-18% of wheelchair users receive wheelchair-related injuries each year. Wheelchairs can malfunction, breakdown or tip over. Keeping up with wheelchair maintenance recommendations reduces the risk of injury tenfold.
A wheelchair that is in good working order will not only be safer, it will also be more comfortable for the senior using it. It will also be easier to use ‒ and require less energy ‒ for the caregivers pushing it.
Weekly
Inspect cushions for proper inflation, shape and signs of wear and tear. Check for leaks in air or gel-filled cushions. Cushions are essential to the senior's comfort and a worn one can increase the risk of developing a dangerous and painful pressure ulcer
Monthly
Clean the wheelchair and cushion
Look for nuts and bolts that are loose or rattle.
Inspect tires for cracks, bulges, looseness, damage, flat spots or signs of wear. Tired tires make the wheelchair hard to push.
Spin the wheels to find signs of worn or damaged wheel bearings, such as knocking, squeaking or squealing with spinning. Wheel bearings allow the wheels to roll nicely. When they are damaged, the wheelchair can be difficult to push and can stress a caregiver's shoulders.
Check spokes to ensure they are free from bends, nicks and signs of loosening. Loose spokes can contribute to wobbling and instability.
Check the alignment to ensure that the wheelchair rolls straight ahead without pulling to either side. Try rolling through a puddle and allowing the wheelchair to coast to observe the tracks. A misaligned wheelchair will be more tiring and harder to control, as well as contributing to undue wear and tear.
Check brakes to be sure they can easily be applied, and hold the tires well when needed.
Inspect handgrips for cracks, wear or looseness, so the senior can self-propel safely.
Inspect wheelchair caster wheels for signs of wear, and to ensure they evenly touch the floor. If not, it can be unstable, unsafe and difficult for caregivers to push.
Inspect foot rests to be sure they are intact and swing smoothly, if applicable.
Inspect armrests for sharp edges, loose or rattling connections and a smooth release and latching mechanism, if applicable.
Inspect back support for signs of wear, tear or screws that have popped out.
Inspect cross-brace (in wheelchairs that fold) for wear, tear and proper functioning.
Inspect anti-tip casters, if present, for signs of damage.
Quarterly
Lubricate moving parts
Yearly
Professional servicing
Enlist Home Care Services for Support
While home care aides can't professionally service your wheelchair, they can do just about everything else! They can handle transporting the wheelchair to the servicer, and offer a great deal of support when it comes to overcoming the challenges of shopping and errands with a wheelchair. Home care aides can help with personal care in the home, or when the senior is out on the town and may need assistance in the restroom. They also are a life-saver for many seniors in wheelchairs, offering mobility assistance, housework support and even meal preparations. Contact the home care agency today to talk about how they can best support your wheelchair-bound senior to live an active and fulfilling life.
Sources
https://www.physio-pedia.com/Wheelchair_Maintenance
If you are considering caregivers in The Heights, TX, for an aging loved one, please call the caring staff at At Your Side Home Care. We will answer all of your senior care questions. Call today: (832) 271-1600.
Latest posts by Donna Wrabel, LMSW
(see all)