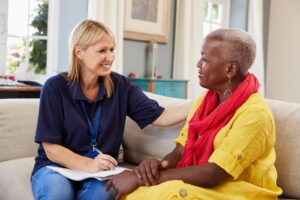 It's so easy to feel as if you've failed when you need help, but that's never the case. Needing more assistance, especially as a family caregiver, is nothing to feel bad about. Everybody needs help now and again and there is so much involved in caring for someone that you love. It can help, though, to look at all of the reasons why it isn't a failure at all to need some help from home care assistance.
Caregiving Involves a Lot More than You Might Expect
Something that you might not realize when you first start helping your elderly family member is that there's a lot going on when you're a family caregiver. Depending on the challenges that your elderly family member is facing, you may be helping her to manage health issues, her household, and so much more. That means that you're doing a lot on top of whatever you're doing to manage your own life, too. It becomes an awful lot for family caregivers to manage all at once.
You're Only One Person
On top of the fact that there is so much going on, odds are very high that you're on your own as a family caregiver. So often the responsibility of helping a family member falls to just one person. And the truth of the matter is that you are only one person. Bringing in home care assistance means that you're able to spread out the tasks that have to be done between you and other people. That's a huge relief when you've been handling a lot on your own already.
Your Senior's Needs Might Be Getting Bigger
Another factor to consider is that your elderly family member's needs are going to change. At times that change is slow enough that you're able to adapt without realizing how much things are different. But there are other situations that cause rapid changes and overnight you may find that you're out of your depth. Elder care providers are able to help you bridge that gap between what help you're able to provide and the help your aging family member actually needs. That's crucial when you're trying to keep your senior safe and comfortable.
You Can't Know Everything
Something else that can be frustrating is that you may not fully know and understand all of what your senior needs both now and in the future. If you've never helped a senior family member before, caregiving can become extremely overwhelming very quickly. Home care assistance can help you to understand a lot more about what changes are coming your senior's way. Knowing where to turn for answers can be just as important as knowing what to do and having a resource available for your senior is invaluable.
It's never a bad thing to need a little extra help. That's true for your senior and it's even more true for you as her family caregiver. Knowing that you and your senior have the help that you need, when you need it, can allow you to focus on the really important aspects of being a caregiver.
If you are considering home care assistance in Katy, TX, for an aging loved one, please call the caring staff at At Your Side Home Care. We will answer all of your senior care questions. Call today: (832)271-1600.
Latest posts by Donna Wrabel, LMSW
(see all)