Five Tips if Your Senior Wants to Reduce Added Sugar in Her Diet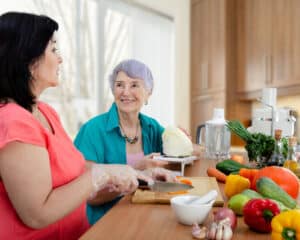 Too much sugar can exacerbate health issues for your senior. It also can lead to energy crashes, especially if your elderly family member is used to using it to keep her going all day.
Swap out Sweet Beverages for Water
If your elderly family member is drinking a lot of sweet drinks, like soda or sweetened tea, she might want to reconsider. Regular soda can contain a lot more soda than your senior realize. Depending on the brand and flavor, sodas can have eight to 13 teaspoons of sugar per can. If she's having more than one soda per day, that means your senior is getting a lot of extra soda. Swapping out those sweet drinks for water is a better idea all the way around.
Opt for Whole Fruits Instead of Juices and Desserts
Fruit juices, even ones that are 100 percent juice, are high in sugar content, too. Some of them don't have added sugar, but juiced fruits have plenty of sugar on their own. Factor in desserts, and that's a lot more sugar. Whole fruits have all the sweetness, but they also contain the fiber and that mitigates the effects of just the sugar.
Keep Snacks a Balance of Protein, Fiber, and Complex Carbohydrates
When snacks are out of balance, that leaves your senior's diet out of balance, too. Making each snack a combination of fiber, protein, and complex or slow carbohydrates gives her body an energy boost and nutrients that she can use. Pairing an apple with peanut butter and some cheese can leave her a lot more satisfied than something that contains a lot of extra sugar.
Go with Unsweetened Foods Whenever Possible
When you're looking at pre-packaged foods, like applesauce, it's a good idea to go with the unsweetened versions whenever you can. These may be a little bit of a taste difference for your senior, especially if she's very used to eating sugary foods. Try swapping out just a few every few weeks or so, to gradually acclimate your senior to the new taste.
Try Different Seasonings to Satisfy That Sweet Tooth
If your elderly family member still has a sweet tooth, there are other ways to get that flavor profile for her. Using spices like cinnamon or vanilla can give foods a sweeter taste without giving her the extra sugar. Experiment to find the combinations she likes.
Reducing sugar intake is a big deal for anyone, but especially your senior. It might help to have someone helping with meal preparation, so hiring senior care providers is a good idea.
If you are considering senior care in Houston, TX, for an aging loved one, please call the caring staff at At Your Side Home Care. We will answer all of your senior care questions. Call today: (832) 271-1600.
Latest posts by Donna Wrabel, LMSW
(see all)