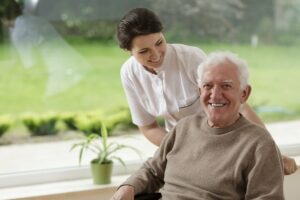 It's time to bring in elder care to help your dad each week. He's already anxious and hesitant about having someone new in his home. How can you help him get comfortable and bond with his caregiver?
Talk to Him About What He Needs
Talk to your dad about his daily routine. What is he confident doing on his own and what does he struggle to do? For those harder tasks, how does he complete them each week? Does he wait until one of his children visits or does he risk an injury?
For example, your dad's balance isn't great, especially when he takes his daily pills. If his light bulb burns out, does he climb a ladder even though he's fallen? Or, does he wait until you stop by and ask you to change it?
What about normal routines? Can he cook his meals or does he need someone to help him? Can he pick out his own clothing and get dressed or does he often wear the wrong outfits given the daily weather?
If your dad's care plan covers his needs and doesn't infringe on the things he does well, he's less likely to be upset. His independence isn't being threatened by having elder care around to help him.
Make Sure He's Involved in the Planning Stages
Your dad should be part of the decision-making. When you're talking to elder care agencies and arranging services, make sure he's involved. He should have the chance to ask questions he has and ask follow-up questions as they arise.
Be Present For the First Few Days
For the first few days, be in your dad's home while he and his caregiver get to know each other. Be present without being in the way. You can work in another room while your dad and his caregiver are spending time together.
The only time you will intervene is if the caregiver asks for your help. If your dad is being particularly argumentative, you could mediate and help your dad see the importance of having his caregiver's help.
Don't Push Too Hard
Allow your dad the space to work through his frustration on his own. He may not form a tight bond with his caregiver for several days or weeks. If he's taking longer than you want, don't criticize him. Let him do things at his pace, but support both him and the caregiver as best you can in the meantime.
Any change will take time. If you're lucky, your dad will adjust quickly to his new elder care aide, but it's not guaranteed. Give him time and let him vent as he does adjust. Soon enough, he'll be happy to have a caregiver's support throughout the week.
If you are considering elder care in Katy, TX, for an aging loved one, please call the caring staff at At Your Side Home Care. We will answer all of your senior care questions. Call today: (832) 271-1600.
Latest posts by Donna Wrabel, LMSW
(see all)