Aging in Place Benefits Your Mom in Many Ways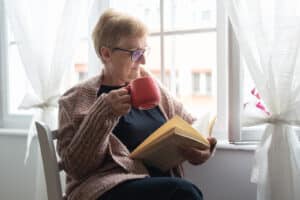 Aging in place very simply means that your mom lives in her current home for the rest of her life. With the right support, it can be an achievable goal. It's also best for her as aging in place benefits her in four key ways.
Four Benefits to Aging in Place
Seniors who age in place are more independent than those who move to senior living facilities. When your mom still lives in her home, she's likely to keep doing the things she's done for decades. She'll still do as much housework as she can manage. She'll do the cooking that she's capable of doing. When she does need supportive services, home care is available.
Home is familiar and comforting. She knows the neighborhood. She probably knows her neighbors. The rooms in her home are of her design with her colors and décor. That feeling of comfort and familiarity helps her emotional and physical well-being.
When your mom lives in her home by herself, she isn't exposed to all of the viruses and infections that run rampant in a hotel-like setting. She's not eating around dozens of other people. While the socialization aspect of community living is a benefit, the spread of disease isn't. Your mom can still be social at home with the help of companionship services.
Finally, aging at home saves money. Your mom has likely already paid off her mortgage. She doesn't have that bill anymore. If she were to move to a community setting, she pays rent. She will pay for home care services, but that's limited to the hours she needs.
What to Look for in Home Care Services
Your mom's goal is to age at home. You need to stop and think about the support she requires right now. Her needs may change, but it's easy to change services as needed. Focus on her immediate needs. If she has a hard time buttoning the little buttons on her shirt, caregivers can help her with dressing.
Your mom loves to vacuum, but she can't carry the vacuum up the stairs while she sweeps each step. Caregivers can vacuum the stairs for her and let her do the rest.
Your mom loves to cook, but she struggles with grocery shopping. Bags are too heavy to carry into the house. She feels lost in the store as she cannot read the fine print on nutritional labels. Caregivers can help with that, too.
Home care services include everything from transportation and help with mobility to meal preparation and laundry. Call an agent to learn more about these and other important services.
If you are considering home care services in River Oaks, TX, for an aging loved one, please call the caring staff at At Your Side Home Care. We will answer all of your senior care questions. Call today: (832) 271-1600.
Latest posts by Donna Wrabel, LMSW
(see all)