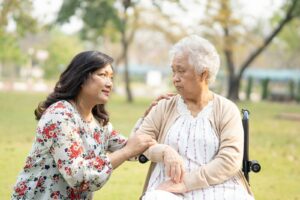 Your senior might find herself shocked one day to be diagnosed with cancer out of the blue. There are a wide range of cancers that often present later in life, and if your elderly family member is diagnosed with cancer, she needs to take a moment to make a plan.
Help Your Senior to Process the News
This kind of diagnosis is incredibly scary to receive. Your elderly family member may be in shock still or even denial. What she needs is time to process the information and figure out how she's feeling and what the best path forward is for her. All of that takes a lot of time and energy that she may not feel that she has.
Follow Her Doctor's Care Plan
Depending on the type of cancer and what stage it's in, your senior's doctor is likely to have a care plan to recommend for her. As your elderly family member learns more about what she's facing and what her options are, it's important for her to keep up with what her doctor suggests. The more information your senior is able to collect about her condition, the more secure she's going to feel in the path that she's following.
Hire Some Home Care Support Now
Often people choose to wait to hire additional help, but this might be a case when it's better for your senior to have help now. 24-hour home care can be there night and day to help your senior with all of her needs. Just knowing that there is someone there if she needs anything in the middle of the night can be a huge reassurance for you and for her. 24-hour home care providers can help your senior remember to eat on time, to take her medications according to schedule, and can just be there to offer comfort.
Encourage Your Senior to Feel Her Emotions
Bottling up her emotions is not the best way for your senior to deal with a diagnosis like cancer. If she's got a way to process her emotions, whether that's journaling or going to talk therapy, that can help her to work through her feelings. Everything that she's experiencing emotionally is perfectly normal but holding it in won't do her any good.
Make Sure that You Understand Her Wishes
If you and your elderly family member haven't talked about end-of-life planning yet, this might be the time to do it. Avoiding the topic does not make it go away and you and your senior may both feel more comfortable once you address the elephant in the room. It's vital for you to know what she wants so that if her care needs change dramatically, you're both as prepared as possible.
Cancer treatments have come a very long way over the last few years, so this diagnosis doesn't necessarily mean that your elderly family member is at the end of her journey already. Taking the time to heal as much as she can helps so much.
If you are considering 24-hour home care in Hunter's Creek, TX, for an aging loved one, please call the caring staff at At Your Side Home Care. We will answer all of your senior care questions. Call today: (832)271-1600.
Latest posts by Donna Wrabel, LMSW
(see all)