Tips for Hosting Small Thanksgiving Gatherings That Include Everyone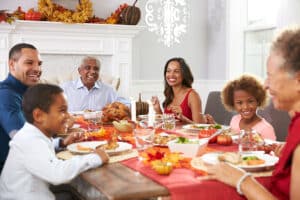 With the current pandemic still gripping the nation, Thanksgiving gatherings are not going to be the same for many families. Your entire family may not be able to travel. Your parents may be safer avoiding a large gathering and sticking to a small one. Here are tips for hosting a small gathering that still includes everyone.
Invite VIPs
Your gathering should have the VIPs in the family. Keep it to a small group and make sure everyone who is coming follows general guidelines on social distancing, masks, washing hands, etc. They may not like having to take those precautions, but it's important for your parents' safety. If they're not willing, they shouldn't come.
You won't want to have a crowd of 20 or 30 relatives. Stick to less than 10 guests and avoid people who work outside the home, go to school, or regularly go out to public settings like restaurants and bars. Ideally, you'd want the gathering to be your parents, your close siblings, and caregivers.
Incorporate Favorite Recipes of Those Not Attending
If your sister cannot make it this year, get one of her favorite recipes and prepare it. When it's time to eat, you'll have favorite dishes from family members even if they're not there. You could make your brother's sausage and apple stuffing, your sister's pumpkin cheesecake, and your aunt's roasted vegetable salad.
They may not be able to join you and your parents. Their recipes make it feel like they're part of the celebration.
Have Video Chat Going
For those who cannot come to the Thanksgiving meal, video chat makes it easy to include them. Set up a stand in the dining room, kitchen, or living room and connect to others using a service like Zoom or Google Hangouts. People will have the chance to chat via the laptop or tablet all afternoon.
Grandkids should be included in the video chats. Give them time to show off their latest dance move, work of art, etc.
Schedule Help For the Holidays
During the holiday rush, it's important that your parents' needs are not overlooked. If you're busy getting your house cleaned and decorated, your parents shouldn't have to be alone. Home care aides can help you take the break to get things done by being there for your mom and dad.
You'll have the freedom to run errands, go shopping, and get your house in order. Your parents have the companionship they need and help with their own cleaning, cooking, and other to-do list items. Call a home care agency to find out more about the range of services that help your parents age at home.
If you are considering home care in Katy, TX, for an aging loved one, please call the caring staff at At Your Side Home Care. We will answer all of your senior care questions. Call today: (832) 271-1600.
Latest posts by Donna Wrabel, LMSW
(see all)