Technology and Home Care Services: What Should You Know?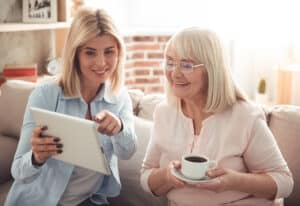 Over the years, elder care services have changed quite a bit. Today, the elderly and their providers have many more advantages. Some of this is due to the technology that has become available in recent years. If you are a family caregiver, it may be helpful to learn more about how technology is revolutionizing the home care services that are available for your elderly loved one.
Senior Citizens Can Still Be Independent
Does your elderly loved one want to keep their independence? If so, they are just like many other senior citizens. They may not want to get help from their adult children or other family members unless they absolutely need to. However, what are they to do if they need extra help? One of the things they can do is to utilize technology. They can get a remote control system to operate the lights or thermostat in their home. They can get an automated vacuum to help with cleaning the floors. These are just some of the ways that technology can help with home care.
Less Stress for Family Caregivers and Elder Care Providers
If you and elder care providers have been helping out your elderly loved one, there are ways that technology can make things a bit easier. For instance, there are apps that can track your elderly loved one's health insurance information, appointments, health records, medications, and other things. In addition, there are apps that can help your elderly loved one stick to routines. They can just push a button showing they got a certain task done and then they can do the next task in their routine.
More Peace of Mind
Are you constantly worrying about your elderly loved one? Do you want to know if they are safe or not? If so, you can always have camera systems installed in their home (with their permission of course). This will allow you to check in on your elderly loved one. You can also have their elder care providers check in on them, as well.
If your elderly loved one leaves their home often, there are also GPS trackers you can have put on their jacket or shoes. This way, if they get lost, you can find them quickly and easily.
Conclusion
Technology has been revolutionizing home care. With all the technology that is available now, you and the elder care providers can get more peace of mind knowing that your loved one is safe. In addition, your elderly loved one can feel more independent, knowing that they can rely a bit on technology to help them get things done.
Sources
https://www.ncbi.nlm.nih.gov/books/NBK315926/
If you are considering elder care in Galleria, TX, for an aging loved one, please call the caring staff at At Your Side Home Care. We will answer all of your senior care questions. Call today: (832) 271-1600.
Latest posts by Donna Wrabel, LMSW
(see all)