Providing Peace of Mind for Families During the Day With Senior Care in Houston TX
In-Home Senior Care Houston TX: Providing Peace of Mind for Families During the Day
It is important for many seniors to stay in the comfort of their own home for as long as possible after reaching the age of retirement and beyond. Many elderly individuals have family who can assist them every day with household chores, errands or other everyday living activities. Ensuring the safety of their aging parents is typically the highest priority for children of seniors; however, jobs and other obligations may force them to be away for extended periods of time. Many children are hiring professional in-home assistance to provide care when they cannot be there during the day while they are working.
In-home senior care professionals can provide all of the non-medical services that are needed to help keep seniors comfortable and safe.
Caregivers can be hired to assist seniors with activities or simply just provide companionship when they have to be left alone. In addition, having a caregiver in the home can help to prevent harm or injury in the event of a fall.
Some of the other services that may be provided include: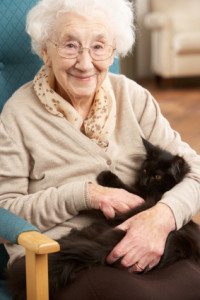 • Help with pet care
• Provide reminders for medication and appointments
• Assist with meal preparation
• General conversation
• Walking assistance
Finding an in-home senior care professional can be an intimidating process for many people in the beginning.
Most people want to find the most competent and compassionate professional caregivers to look after the safety of their parents. Hiring a caregiver from a company that specializes in senior care services may be the best way to get the most information about the professional who may be providing care. Most caregiver organizations require their employees to undergo a drug screen as well as a criminal background check.
One of the most imperative qualities to look for in an in-home care provider is whether the whole family feels safe and comfortable around them.
This is important because the caregiver is the person that will be left to care for the senior when the family is unable to be there. Checking out the credentials and qualifications before meeting with the potential caregiver can help ease some of the concerns that the family may have. In addition, taking the time out to find the right professional caregiver can ensure that their aging parents will always have someone with them to keep them safe and give the family the peace of mind they deserve.
For more information about senior care in the Houston area, contact At Your Side Home Care. Fill out our web form or call 832-271-1600 today!
For most of us, the word "home" evokes warm feelings of comfort, security and well-being. For older adults, home also means holding tight to cherished memories and maintaining self-esteem and independence. When illness, injury or age make life a little more challenging, remaining at home in a comfortable, familiar environment encourages recovery and enhances the quality of life. Home can be defined as a private residence, an independent or assisted living facility or even a short term stay in the hospital, we recognize the additional benefits provided by a personal, professional assistant.

Our Certified Nurse Aides, 24-Hour Live-in Assistants and Home Health Aides are available 24 hours a day, 365 days a year. We also provide the security and confidence of 24-hour Telephone Assistance, so fast, reliable help is always available when it's needed. To learn more about our homecare services see our homecare services page.

Different people need different levels of homecare. To meet the requirements of our clients, At Your Side Homecare maintains consistent staffing levels of caring professionals. Homecare service is available for as little as a few hours a week, or as many as 24 hours a day, seven days a week
Latest posts by Donna Wrabel, LMSW (see all)