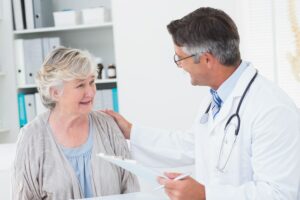 A yearly health exam is essential for catching diseases and health issues before they progress or even start. When was your mom's last check-up? If it's been more than a year, use National Women's Check-Up Day to discuss the need for her to schedule an appointment with her doctor.
What She Can Expect During This Appointment
Some of the things your mom should expect are blood pressure and pulse measurements. Her doctor will record her height and weight. She's likely going to have a pelvic exam to look for signs of lumps or growths on her ovaries and her uterus.
She may need a pap test to check for cervical cancer. This may not be necessary if her last three tests in the past decade were negative.
Your mom's doctor may schedule a mammogram if she's due. If she hasn't been screened for colorectal cancer recently, her doctor may also recommend a colonoscopy. There are other options, but a colonoscopy may be preferable as it's only necessary every ten years if no polyps are found.
The doctor will look at your mom's skin for lesions that could be cancerous. This is important if your mom has a history of skin cancer, has spent lots of time in the sun, or has family members with skin cancer.
Expect your mom's doctor to ask about her mental health. She'll probably be given a test to determine if she is experiencing depression. If her doctor doesn't ask her about this, she should bring it up, especially if she has risk factors for depression, such as a spouse or partner's death, family history, or being diagnosed with a chronic health condition.
Blood tests to check cholesterol levels are also likely. She should have an osteoporosis screening to test her bone density. Finally, she'll have blood tested to measure her blood sugar levels to find signs of prediabetes or diabetes.
Has your mom had an eye exam in the past year, it's time to talk to her about that, too. She needs to go for yearly exams to check her vision and look for signs of eye diseases like cataracts, glaucoma, diabetic retinopathy, and macular degeneration.
Vaccinations She Should Consider
During her visit with her doctor, your mom should ask if she's missing any vaccinations. Some of the shots that older adults should get are the pneumococcal vaccine, shingles, TDAP, and flu shots. The COVID vaccination and at least one booster are also recommended.
What do you do if your mom needs rides to all of these medical exams and you're not free? When your mom struggles with all areas of her independence, such as driving or scheduling appointments, consider the benefits of companion care at home.
Companion care at home services are designed to help your mom with scheduling, housekeeping, errands, and transportation. Her caregivers can cook meals for her, keep her company, and let you know how everything is going. Call to learn more.
If you are considering companion care at home in Memorial, TX, for an aging loved one, please call the caring staff at At Your Side Home Care. We will answer all of your senior care questions. Call today: (832) 271-1600.
Latest posts by Donna Wrabel, LMSW
(see all)