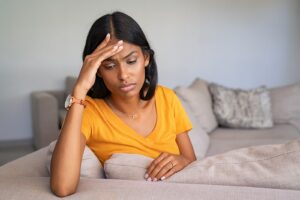 Excessive stress impacts more than your attitude about the things causing stress. Left unchecked, overwhelming stress can lead to mental and physical breakdowns. Anxiety and depression can both occur when stress goes unchecked. That's the message being shared on National Stress Awareness Day.
Family caregivers often experience emotional, mental, and physical stress, but they don't see another option. Your dad needs your help, so you can't stop and take care of yourself. Pay attention to these seven things excessive stress does to your body.
Breathing Patterns
Stress may have you breathing rapidly. With shallower, rapid breaths, the lungs don't expand as fully and get the needed oxygen. Hyperventilation is possible when you're experiencing excessive stress.
Cortisol
Cortisol is a stress hormone produced by the adrenal glands. When the body is experiencing stress, cortisol release occurs faster. Over time, the response that leads to the triggering of cortisol can become imbalanced, which can lead to chronic fatigue, depression, and immune disorders.
Fight or Flight Response
As stress builds, the brain may trigger a fight-or-flight response. This can make it hard to sit still and focus.
Gut Dysfunction
Your gut has millions of nerves. When stress increases, it can increase the production of stomach acid and can make you feel stomach pain, bloating, and even gas. It also interferes with the normal balance of healthy bacteria living in your gut, which can trigger other issues like diarrhea or changes to your immune health.
If the stomach acid increases and is pushed up into the esophagus, it can cause heartburn, which may add to the chest pain that's being experienced through rapid, shallow breathing and muscle tension.
Headaches
Stress can tighten muscles in the head causing tension headaches. Those headaches are distracting and make it hard to focus on anything other than the pain, including the care tasks your dad is relying on you to complete.
The Heart
Stress increases the heart rate, even temporarily, which makes the heart work harder. This also increases your blood pressure.
Muscle Tension
Stress causes the muscles to tense up. That tension can cause pain throughout the body. Chest pain, shoulder pain, and neck pain are some areas where you'll experience that pain. If you clench your jaw at all, you may also find your jaw aching.
Home Care Provides You With the Break You Need
Always take care of yourself. Your emotional, mental, and physical health are crucial when it comes to your dad's care. If you're burned out and just don't have any energy left, you can't provide him with the quality care he needs. This is why respite from home care is essential.
Respite care is a service where a professional home care provider stays with your dad while you take a break. You can visit friends, go home and spend time by yourself, attend a support group for family caregivers, or see a doctor or therapist. Your dad's needs are tended to by his home care aide, so he's never at risk. Learn more by talking to a home care expert.
If you are considering home care in Memorial, TX, for an aging loved one, please call the caring staff at At Your Side Home Care. We will answer all of your senior care questions. Call today: (832) 271-1600.
Latest posts by Donna Wrabel, LMSW
(see all)