Hourly Home Care in Houston & Katy
At Your Side Home Care is a licensed home care agency with the state of Texas. Our owners Donna Wrabel, LMSW, and Rick Wrabel have personal involvement in every case our home care agency takes on. You will deal with one, or both, of them throughout the process from your initial contact to the implementation of services and beyond.
We have terrific caregivers who are hand picked by the owners. In addition to criminal background and reference checks, we spend many hours with these individuals before they are brought on to our staff. Caregivers are given assignments based on their background and experience as well as their "personality fit" with each client we work with. All of our caregivers pass the test our owners ask themselves, "Would we feel good about having this individual working with our family members?"
We Provide The Best Hourly Home Care in Houston, Katy, Memorial, and the surrounding areas.
Use the form below to get instant information on pricing and services.
At Your Side Home Care aspires to be the preeminent home care agency focusing on safety, lifestyle enhancement and positive outcomes to help seniors continue to age in the comfort of their own homes.
Our Office Information
Hours: 8:00 AM – 5:00 PM, Monday through Friday
Phone: (832) 271-1600
A wide range of daily homecare services & senior services
Bathing, Grooming & Hygiene
Qualified At Your Side caregivers provide respectful assistance with bathing, dressing, hair styling, toileting, and other general hygiene needs.
Meal Preparation
Individual preferences, dietary restrictions and the importance of nutrition are always considered.
Medication Reminders & Safety Supervision
Trained caregivers work with client-specific medication profiles and ensure that all medication is taken promptly and in accordance with the physician's orders. Caregivers also provide general supervision and ambulatory assistance to ensure client safety and well-being.
Transportation/Errands
At Your Side aides are happy to help your loved ones travel to medical appointments and assist with occasional shopping and other local errands.
Companionship
Freedom from loneliness is crucial to mental health, particularly for seniors. At Your Side caregivers are more than employees - they're friends who provide conversation, entertainment and daily emotional support.
Chore Services & Light Housekeeping
Basic every day household chores are performed by At Your Side caregivers upon request.
Family Respite
At Your Side makes it possible for family caregivers to take time off worry-free. We'll take care of everything so you can attend to your own needs, enjoy periodic breaks or a much-needed vacation.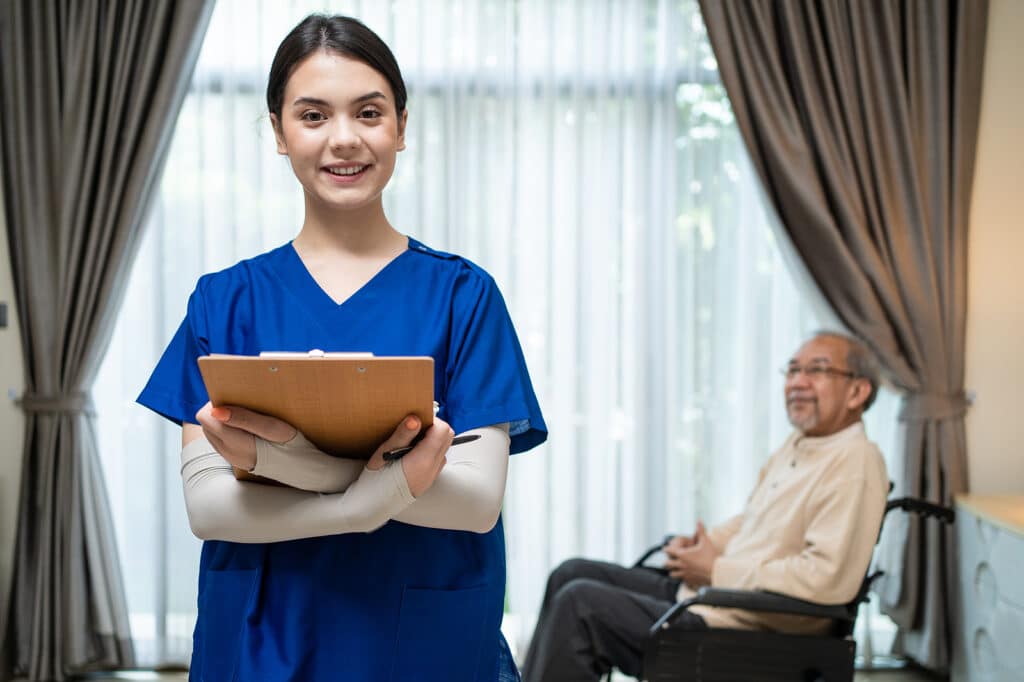 What are the Benefits of Hourly Home Care?
Family caregivers get much-needed relief. Family members providing care for loved ones are under-appreciated and overworked. Hiring a caregiver will ease your burden, and provide you time to recuperate, or pay attention to the things you've neglected.
Regain your freedom. Don't be a prisoner to your physical challenges. A caregiver can provide the personal care and assistance you need to preserve your freedom. Set your own schedule and get the help you need at home when it's convenient.
Reduce the time spent on everyday tasks that have become difficult. If everyday tasks like dressing, bathing, housekeeping, shopping, and cooking are challenging, or seem to take all your time, it's time to get the reliable help of a caregiver.
Regain your independence. Relying on friends, neighbors and even family members can be uncomfortable, and it can be frustrating. You won't have to rely on the charity of others or feel you are imposing when you hire a caregiver to help.
It's cost-effective. The cost of care for an hourly caregiver working 40 hours per week costs less than the average assisted living facility. From 12 to 20 hours a week (very common schedules), there is no comparison.
Peace of Mind. Knowing your caregiver is there to help you while ensuring your safety, provides peace of mind to both you and concerned family members and loved ones.
What Services Are Included with Hourly Home Care?
Alzheimer's / Dementia Care

Parkinson's Disease Care

Cancer Care

Respite Care

Personal & Companion Care

Bathing, Grooming & Hygiene

Dressing, Undressing

Wheelchair/walker assistance & Transfers

Ambulation Assistance

Incontinence Care, Toileting Assistance

Ostomy & Catheter Assistance

Medication Reminders

Meal Preparation

Feeding Assistance

Light Housekeeping & Laundry

Appointment Scheduling

Transportation to Appointments

Errands & Grocery Shopping

Comforting Companionship

Accompany on outings and to Social Engagements
Is Hourly Home Care Cheaper Than a Nursing Home?
The cost of care at any level depends on the amount and type of care needed.  
The average monthly cost of nursing home care in California is $9,247, according to the Genworth Cost of Care Survey 2020.
The average cost of elder care varies vastly between states, depending on the cost of living in the region. Generally, home care is always less expensive except in special cases where there is a need for 24-hour care or for offering specialized advanced treatments for prolonged periods.
In 2020 on average, a nursing home in Texas costs around $300 daily for a semi-private room and $350 for a private room, and as such the monthly charges come to 9,200 for semi-private rooms.
So, the annual costs come in the range of $110,000 for full-time nursing home care. In addition to this, there will be other expenses for dementia, memory care, or other special services offered.
In-Home Care tends to be much more affordable than nursing home care, and remains a flexible alternative. 
Does Medicare Pay for Hourly Home Care?
Medicare covers inpatient hospital care and some of the doctors' fees and other medical items for people with Alzheimer's or dementia who are age 65 or older. Medicare Part D also covers many prescription drugs.

Medicare will pay for up to 100 days of skilled nursing home care under limited circumstances. However, custodial long-term nursing home care is not covered.

Medicare will pay for hospice care delivered in the home, a nursing facility or an inpatient hospice facility for people with dementia who are determined by a doctor to be near the end of life.

Medicare will not cover the cost of non-medical home care

(long-term care) in the home. Medicare was designed to cover short-term illnesses and rehabilitation time.
Our Houston Home Care Service Area