Home Care Fun: National Pancake Week
Home Care in Houston TX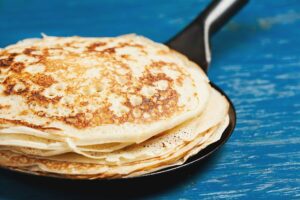 There is nothing quite like a hot breakfast to get any day in your home care journey off to a good start and fuel you through all of the challenges that you may face in your day, and for many people a good hot breakfast means one thing: pancakes. These fluffy, nostalgic breakfast treats are perfect for going with anything from eggs and breakfast meat to fruit for a day-starting meal that is both delicious and power-packed.
February 21 through 27 is National Pancake Week, the perfect opportunity for you to take the time to enjoy this special breakfast with your senior, or to encourage them to work with their home care provider to make a delicious meal together. Start with this basic homemade mix and then get creative adding other ingredients to change up the flavor and nutrition of your breakfast.
What You Will Need
2 tablespoons of sugar, plus 2 teaspoons
1 teaspoon of kosher salt
4 cups of flour
2 teaspoons of baking soda
3 tablespoons of baking powder
A whisk
A large bowl
An airtight container
A mixing bowl
One egg
1 cup of milk
1 tablespoon of melted butter
A griddle
Butter for greasing, or nonstick cooking spray
A spatula
Toppings like powdered sugar, fruit, maple syrup and more butter
What to Do
Add the four cups of flour, baking powder and baking soda to the large bowl
Add the kosher salt and sugar and mix well
Keep this mix in a plastic bag or in an airtight container until ready to use
Scoop one cup of the dry mix into the mixing bowl
Add one egg to the mix
Add one cup of milk to the mixture
Add the tablespoon of melted butter and begin to whisk
Whisk until smooth
Place the griddle over medium high heat
Grease the griddle with the nonstick cooking spray or butter
Once the griddle is hot, pour the batter onto it in 1/4 of a cup measures
Cook until bubbles begin to appear on the surface
Flip and continue to cook
Cook for about 1 to 2 minutes, until the second side is brown
Remove from the griddle and continue until all pancakes needed are cooked
Top with the butter
Add whatever other toppings are needed to taste
Serve hot
Try some of these changes to boost your pancake breakfast:
Sprinkle in a few tablespoons of flaxseed for fiber, protein, and omega-3 fatty acids
Add blueberries or strawberries for a fresh, fruity pop
Caramelize slices of apple in butter and sugar, and then pour pancake batter over it to create apple pancakes
Swirl in some hazelnut chocolate spread before you cook the batter for a rich, flavorful, and protein-packed twist on the traditional favorite
Instead of large pancakes, make small "stick" shapes and put syrup or a fruit compote in a small container so that you can bring these on the road for a satisfying breakfast on the go
Make up and freeze extra pancakes for a fast breakfast on busy mornings.
If you or an aging loved one are considering home care in Houston, TX, please call the caring staff at At Your Side Home Care. We will answer all of your senior care questions. Call today: (832) 271-1600.
Latest posts by Donna Wrabel, LMSW
(see all)