Four Tips for Helping a Senior Who Fears Falling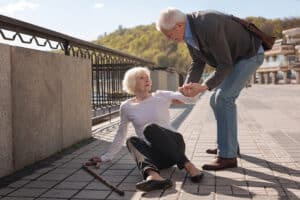 It makes sense that your elderly family member might have a healthy concern about falling, but what about if she's afraid of falling? One fall can seriously change your elderly family member's life forever, so it's important to address the situation thoroughly.
Try to Understand What She's Afraid of about Falling
The idea that your senior is afraid of possibly falling isn't really that difficult to understand. What you might need to dig deeper into, however, is why she's afraid of falling. There are a lot of reasons this could be the case and finding an answer is going to hinge on her reasons. Talk to your elderly family member about what specifically concerns her about the idea of falling. Is she worried about her health causing a fall or is it something else?
Keep Your Senior's Goals Focused on Keeping Her Well
Once you have a better understanding of why your senior is experiencing the feelings she's experiencing, you can start to put solutions into place. If your elderly family member is concerned about her health contributing to a fall, one of her goals might involve talking to her doctor and determining how to stay as healthy as possible. Or, if one of her concerns is that she might be alone too much, then bringing in elderly care providers can offer companionship and assistance.
Find the Places Where You Can Make Changes to Accommodate Your Senior
Where else can you make changes to help your senior to manage her fears? Tidying her home and making necessary repairs are just two ways you can do this. Look for both simple and more complicated solutions. The simple solutions are ones that you can quickly implement. Make a plan to put the more complicated solutions into play.
If She's Still Afraid with Safety Precautions, Therapy Can Help
This may not fix your senior's fears. You can do all of the right things and put all of the right safety considerations into place and your senior may still be afraid of falling. Talking through what she's experiencing with a therapist might be a good solution to consider, too. This allows your elderly family member to work through what else might be going on for her.
Falls are a serious concern for aging family members. It's important that you and she are doing everything that you can to make sure that she's as safe as possible.
If you are considering elderly care in Galleria, TX, for an aging loved one, please call the caring staff at At Your Side Home Care. We will answer all of your senior care questions. Call today: (832) 271-1600.
Latest posts by Donna Wrabel, LMSW
(see all)