Activities That Can Help Bring Joy to Seniors with Alzheimer's Disease
Senior Care in Cinco Ranch TX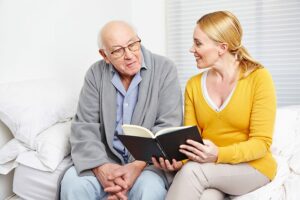 Alzheimer's disease may have significantly impacted your elderly loved one's ability to communicate with others, but that does not mean they are no longer able to create connections with other people. In fact, social interactions can reduce the possibility of a severe cognitive impairment. Participating in memory-provoking activities is an excellent way to bring elderly adults with this disease back to a joyful time in their childhood or early adulthood.
With the help of a trained senior care provider who has experience with elders who have Alzheimer's disease, there are several activities that could help slow down the progression of this disease on their memory.
Look at old photo albums. Reminiscing over old family photos is a great way to jog your loved one's memory. Not only can looking at these pictures help, but talk about the people in the photo and what was happening. Your loved one may also benefit from looking at old newspapers or magazines to help them remember different events and news items that took place in the past.
Read together. Another effective memory boosting activity is reading to your loved one. Pick one of their favorite books and begin reading aloud for them. You can include them in the activity by allowing them to hold the book, feeling it's binding and pages.
Listen to the elder's favorite music. Music can be an effective way of bringing the senior back to a much more joyful time in their life. Play music from their childhood or from a certain musician they enjoy. Some radio channels may also play your loved one's favorite music.
Go for a walk. While going for a nature walk, allow the elder to touch the grass, leaves, trees, and any other nature item that may cross your paths. If you hear a bird singing, talk about it and bring attention to the wonderful sounds and sights nature has to offer.
Cook favorite recipes together. Do you have any family recipes that have been a favorite for generations? Why not cook them together? While creating these recipes, you can ask the elder the history behind the recipe. If the elder is unable to answer you, then they will still enjoy hearing you talk to them.
Visit an animal shelter or zoo. Animals have this amazing ability of promoting joy and relaxation among anyone who gets the opportunity to pet them. Let them pet the animals at the petting zoo or animal shelter, asking the senior about the animals they grew up with.
Connecting with someone who has Alzheimer's disease can be difficult, but these tips will make it much easier.
Source:
http://www.alzheimers.net/2014-03-06/stimulating-activities-for-alzheimers-patients/
If you or an aging loved one are considering senior care in Cinco Ranch, TX, please call the caring staff at At Your Side Home Care. We will answer all of your senior care questions. Call today: (832) 271-1600.
Latest posts by Donna Wrabel, LMSW
(see all)