How Can Your Senior Stay Safe When Exercising Outside?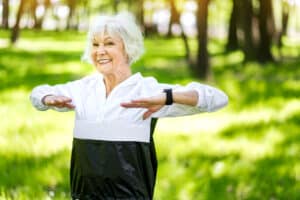 Exercising outdoors in the fresh air can help your aging family member to move more and to have fun while doing so. The trick is for her to get that movement time in while she is as safe as possible. That might mean asking your elderly family member to stick with some ground rules that are hopefully easy for her to follow.
Encourage Her to Let Someone Know What She's Doing
It's always important that if your aging family member is exercising, even inside, that someone knows what's happening. This is especially true if your elderly family member has serious health issues. Exercising outside means that there are a lot of other variables you need to be aware of, too. Having an exercise buddy could be even more important. Senior care providers are a good option because they offer companionship and they have expertise to help your senior if needed.
Make Sure She Has Identification with Her
Any time there could be something that happens to your senior, it's vital that she has a way to identify herself and maybe even to get help. Carrying identification with her is important, so clothing with pockets is a good idea. Having a cell phone with her is also something that she needs to consider, just in case she needs to call someone for help.
Encourage Her to Dress to Be Seen
Ideally, your elderly family member wouldn't be outside exercising at dawn or dusk. But regardless of the time of day, she needs to dress in order to be seen. This means light colors, hopefully with some sort of reflective material at least somewhere. If she is determined to exercise when there's low light, encourage her to carry a lit flashlight with her.
Put Together an Exercise Plan that Fits Where Your Senior Is
Your elderly family member needs an exercise plan that meets her where she is and that allows her to grow. She should start out with her doctor and figure out what exercise level works for her right now. This might mean keeping her heart rate at a specific level or sticking to certain exercises only. It's important that she starts out slowly so that she can ramp up her activity levels.
Keeping your elderly family member as safe as possible while exercising might not always feel possible, but there are ways you can do so. Work with your elderly family member to set up ground rules that she's okay with so that she's not frustrated.
If you are considering senior care in Cinco Ranch, TX, for an aging loved one, please call the caring staff at At Your Side Home Care. We will answer all of your senior care questions. Call today: (832) 271-1600.
Latest posts by Donna Wrabel, LMSW
(see all)