Home Healthcare Houston: Family Caregivers
Family Caregivers: "I Feel Good That I'm Able To Help"
Written by Melissa Galvez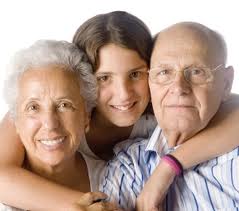 What will happen to Mom when she can't care for herself? Every year, millions of Americans join the ranks of family home healthcare caregivers to look after an aging parent, spouse or other relative.
They take on several unpaid jobs they never applied for — chauffeur, financial adviser, personal care attendant, nurse. They spend hours providing home healthcare for relatives and at doctors' offices. Caregivers often report real satisfaction in knowing that Dad is eating right or that Grandma has her medicine. But they also report high levels of stress, financial difficulties and health problems.
In this special series from News21, five families describe the worries and rewards of long-term care.
Silvia Ortiz, Houston, Texas
Silvia Ortiz spends her days ensuring that her mother has eaten properly and that her father has taken a walk. Ortiz lives in Houston's Greater Fifth Ward, down the street from her parents, Maria Guadalupe Perez, 68, and Gregorio Perez, 67.  Her mother has diabetes, arthritis and depression; her father has had knee surgery and heart problems.
The Perez family works with a case manager from the senior program at Neighborhood Centers Inc. Ortiz, who's 41, has held a paying job for just three years, choosing instead to focus on her children — now all attending or graduated from college — and her parents.
Though she is relatively young for the role, Ortiz is hardly alone. Estimates of the number of caregivers providing home healthcare in America vary widely, but AARP has calculated that at any point in time, 42.1 million Americans provide care for an adult with "limitations in daily activities." That care can include anything from driving and paying bills to helping someone out of bed or to the bathroom.
continue story here
For more information about receiving home healthcare for your loved one, contact At Your Side Home Care. We can help your family with all of your care needs. We are a home care agency providing quality and affordable home healthcare in Houston and the surrounding communities. Call 832-271-1600.
Latest posts by Donna Wrabel, LMSW
(see all)