Alzheimer's Home Care in Houston & Katy
At Your Side Home Care is a licensed home care agency with the state of Texas. Our owners Donna Wrabel, LMSW, and Rick Wrabel have personal involvement in every case our home care agency takes on. You will deal with one, or both, of them throughout the process from your initial contact to the implementation of services and beyond.
We have terrific caregivers who are hand picked by the owners. In addition to criminal background and reference checks, we spend many hours with these individuals before they are brought on to our staff. Caregivers are given assignments based on their background and experience as well as their "personality fit" with each client we work with. All of our caregivers pass the test our owners ask themselves, "Would we feel good about having this individual working with our family members?"
We Provide Top Alzheimer's Home Care in Houston, Katy, Memorial, and the surrounding areas.
Use the form below to get instant information on pricing and services.
At Your Side Home Care aspires to be the preeminent home care agency focusing on safety, lifestyle enhancement and positive outcomes to help seniors continue to age in the comfort of their own homes.
Our Office Information
Hours: 8:00 AM – 5:00 PM, Monday through Friday
Phone: (832) 271-1600
We help families cope with Alzheimer's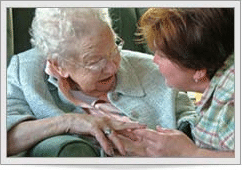 Alzheimer's disease and other forms of dementia can affect every aspect of a person's life. It can diminish the ability to understand, reason, and communicate. It can alter behavior, emotions and moods and it can have detrimental effects on physical health.
At Your Side can help preserve the quality of life of a person with Alzheimer's by providing the respectful, dignified care a person living with Alzheimer's requires in the familiar surroundings of home.
Our dependable caregivers are specially trained to care for clients with Alzheimer's in a compassionate manner that protects their privacy, dignity and quality of life in all stages of the disease.
They understand that routine and familiarity are important and are prepared to handle the changing moods and behaviors that can accompany the disease.
Our caregivers can provide the following services, and many others, during their visits:
Safety supervision
Mind-stimulating activities such as games and discussions
Social interaction opportunities
Support with activities that maximize independence
Nutritious meal preparation
Assistance with personal hygiene and grooming
Types of In-Home Alzheimer's Care
In general, there are four different types of in-home memory care. Home care companies may offer one or more of the following services:
Companion services:

Help with visiting, supervision, or recreational activities.

Personal care services:

Assistance with dressing, bathing, eating, toileting, exercise, and other personal care.

Homemaker services:

Help with shopping, housekeeping, and meal preparation.

Skilled care:

Assistance with injections, wound care, physical therapy, and other medical needs by a licensed healthcare professional.
What Dementia Care Services Are Offered by At Your Side Home Care?
In-home memory care may include things like:
Supervision to prevent the person from wandering

Companionship to prevent loneliness

Light housekeeping, cooking, making sure they take medications on time

Assistance with activities of daily living (such as dressing, bathing, toileting, and feeding)

Transportation to and from doctor appointments or shopping

Managing finances
The Benefits of Alzheimer's Home Care
When your loved one has Alzheimer's or another form of dementia, home care has many advantages.
Pros of home care for dementia:
Home is familiar and comfortable

Your loved one can develop a more personal one-on-one relationship with their caregiver(s)

Typically, less expensive than a nursing home

Seniors can remain as independent as possible
How Do I Know If My Loved One Needs In-Home Care for Dementia?
Since Alzheimer's and other forms of dementia are progressive, there will likely come a time when your loved one will fail to care for themselves properly. Here are some signs that your loved one may benefit from home care:
Changes in behavior, such as failing to maintain personal hygiene or pay bills on time

Disorientation and confusion that puts their physical safety at risk, such as wandering away from home or forgetting the rules of the road while driving

Decline in physical health, such as losing weight because they forget to eat or aren't taking medication properly

Death or deterioration of their primary caregiver, such as a spouse

Incontinence is a problem you may not want to handle on your own
Our Houston Home Care Service Area