Traveling with Your Elderly Parent
Home Care in Houston TX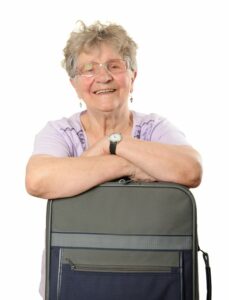 As a family caregiver, your life is sometimes filled with the everyday tasks that need to be addressed. Before you know it, weeks have gone by and you and your parent have spent very little time together. Planning a mini-vacation is a great way to spend some quality time in each other's company and create moments that you'll both look back on with gratitude. There are, however, a few extra measures you will need to take before packing up your parent for your next great adventure.
Mobility
Does your parent require the aid of a wheelchair, walker or cane? They may not presently use these devices, but your trip may require walking longer distances than usual. This is an area where it's better to sway toward than regret not addressing once your vacation is underway. Many vacation areas offer wheelchair and walker rentals. Check into these ahead of time to ensure availability. Regarding your hotel, make sure you have reserved a handicap accessible room, if needed, which will usually offer wider door width, a higher toilet and grab bars in the shower. If your loved one does not require special accommodations, consider asking for a room close to the elevator for ease of access.
Flying
This is another area where you should consider the need for a wheelchair and let the airline know ahead of time. At the same time, when making reservations, let them know if your parent has special seating requirements. Make sure your loved one wears comfortable shoes that are easy to remove for TSA security scans. You will need to report any surgical implants that may set off the scanners. TSA now offers special screening services for those with disabilities that take into account such things as medical devices and mobility aids, but you will need to set this up in advance. If they have a pacemaker, be sure to check with their health care provider regarding any safety issues.
Medication
Be sure to keep medications in their prospective prescription bottles and bring enough for the duration of the trip and then some. Having a little extra on hand is advisable due to possible travel delays. Medications should be in their own carry-on bag.
Home Care Providers
An ideal situation is to bring your parent's home care provider along on the trip. This is, of course, not always possible. Finding a local home care provider at your destination is another option. They can assist with the daily activities of living and offer companionship when your parent tires and needs to spend some quiet time in the hotel room, while you and the rest of your family continue playing.
If you or an aging loved one are considering home care in Houston, TX, please call the caring staff at At Your Side Home Care. We will answer all of your senior care questions. Call today: (832) 271-1600.
Latest posts by Donna Wrabel, LMSW
(see all)