A Healthy Twist on the Grilled Cheese Sandwich
Home Care in Houston TX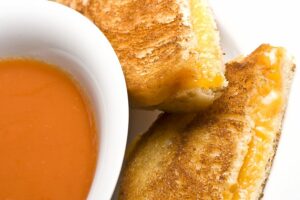 There are few things as wonderful as taking that first bite into an ooey, gooey grilled cheese sandwich. The right parts of butter, cheese, and grilled bread are guaranteed to lead one to culinary heaven.
If your parent is like many Americans and they're a lover of grilled cheese sandwiches, they'll be happy to know it's National Grilled Cheese Sandwich month. Grilled cheese sandwiches are one of life's great pleasures. Unfortunately, they're not healthy. Requests for greasy food like grilled cheese sandwiches is sure to increase caregiver stress.
As your parent ages, things like grilled cheese sandwiches may have to be removed from their diet. But grilled cheese sandwiches don't have to be greasy to be delicious. If you'd like to help your parent enjoy this fun and delicious meal, there are a few things to consider.
As you'll see in the recipes below, butter doesn't have to be included in a grilled cheese sandwich to make it delicious. In fact, removing the butter and replacing it with olive oil or a low-fat spread reduces the calories and fat.
Cheese isn't everything. Another thing you'll notice in the below recipes is that they include more than butter, cheese, and bread. Some have mushrooms, others have tomatoes, one even has zucchini. Feel free to experiment with healthy additives that will add a lot of flavor without adding a lot of fat.
Choosing the right cheese is important. Most grilled cheese sandwiches are made with American cheese, but there aren't any rules that say grilled cheese sandwiches must be made with American cheese. Experiment with different types of cheeses that are lower in fat but still pack a lot of taste.
Here are a few delicious recipes you may want to make with your parent. Again, feel free to experiment. If you or your parent know how to make one of these grilled cheese sandwiches healthier, give it a try:
Grilled Portobello, Bell Pepper, and Goat Cheese Sandwich – This recipe eliminates the butter. But it adds Portobello mushrooms, bell peppers and goat cheese. This is a healthy flip on the classic grilled cheese sandwich.
Grilled Zucchini Caprese Sandwich – This sandwich is packed with tomatoes, zucchini, mozzarella, and basil. Instead of being fried in butter, the bread is brushed with olive oil and garlic.
Healthy Grilled Cheese Sandwich – If your parent prefers the classic grilled cheese sandwich, this version will get them closer to the mark. This sandwich uses extra virgin olive oil instead of butter. It also suggests using low-fat cheese.
Gooey Grilled Cheese – A standout of this sandwich is the use of a pear and jam. It also substitutes olive oil for butter. The cheese suggested for this sandwich are Havarti or Monterey Jack.
There are lots of ways to mix the grilled cheese sandwich up without losing the flavor. Your parent will be happy, you'll be reducing caregiver stress, and you'll be happy.
If you or an aging loved one are considering home care in Houston, TX, please call the caring staff at At Your Side Home Care. We will answer all of your senior care questions. Call today: (832) 271-1600.
Latest posts by Donna Wrabel, LMSW
(see all)