Family Caregiver Support Groups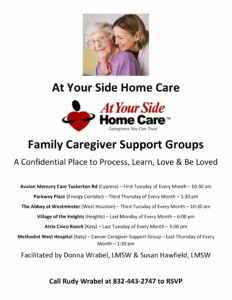 At Your Side Home Care is proud to be partnered with Methodist West Hospital in Katy to facilitate a monthly Caregiver Support Group for families working through the challenges of a cancer diagnosis. The Cancer Center at Methodist West is one of the leading treatment centers in the city and provides a tremendous service to families at such a difficult time.
Susan Hawfield, Licensed Master Social Worker, has been a Social Worker with At Your Side Home Care for over 3 years after working for several years as a medical social worker in the hospital setting. Her background gives her unique insights to bring to family members who are struggling with guilt, burnout or other common challenges that come along with a difficult diagnosis.
The group is a confidential opportunity to learn, connect with others, love and be loved. It is totally free of charge and is open to the public.
At Your Side Home Care also facilitates several other caregiver support groups in and around Houston. You can find a group near you:
Avalon Memory Care Tuckerton Rd (Cypress) – First Tuesday of Every Month – 10:30 am
Parkway Place (Energy Corridor) – Third Thursday of Every Month – 1:30 pm
The Abbey at Westminster (West Houston) – Third Tuesday of Every Month – 10:30 am
Village of the Heights (Heights) – Last Monday of Every Month – 6:00 pm
Atria Cinco Ranch (Katy) – Last Tuesday of Every Month – 5:00 pm
Methodist West Hospital (Katy) – Cancer Caregiver Support Group – Last Thursday of Every Month – 1:30 pm
Please RSVP to Rudy Wrabel – 832-443-2747
Latest posts by Donna Wrabel, LMSW
(see all)