Does Your Senior Have What She Needs to Age in Place?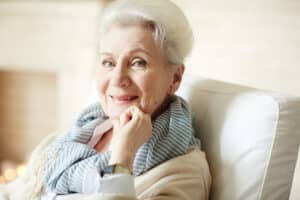 If your elderly family member has expressed a desire to age in place you need to make sure that she's truly ready for this step. Aging in place is going to be much easier for your senior with support systems and tools ready to go when she needs them.
She Has a Support System Geographically Close to Her
Friends and family who live nearby and who stop in often can help your elderly family member to feel safe and secure at home. This could also be ideal if you are the primary caregiver, but you don't live as close to her as you'd like. When your senior needs help, she may already know that she can reach out to any of several people that she knows and loves.
She's Handling a Lot on Her Own for Now
Although you might be worried, your elderly family member might be doing quite a bit on her own. If she's still driving, still engaging with others, and her health is not compromised she may well be perfectly fine with things as they are. It's important to make sure that she's getting regular checkups with her doctor and that she's keeping up with anything else that could be a problem for her.
She Doesn't Have Safety Concerns
One way to ensure that your elderly family member can age in place easily is to go through her home and make sure you take care of any lingering safety concerns. When her home is in disrepair, that creates huge safety concerns that could force her out of her home before she's ready. Keep up with regular maintenance for her so that she doesn't have to worry.
You've Lined up Other Resources for Her
When you are able to line up as many resources for her as you can, that gives your elderly family member a layer of safety nets. This might involve getting in touch with agencies that help the elderly as well as hiring home care providers. Home care providers could start helping her now with occasional light housekeeping, meal preparation, and just companionship. As her needs change, they're already in place to help pick up slack.
So much can change for your aging adult very quickly. But as long as you and she are realistic about what she needs in order to have the quality of life that she wants, you should be able to help her to do just that.
If you are considering home care in West Houston, TX, for an aging loved one, please call the caring staff at At Your Side Home Care. We will answer all of your senior care questions. Call today: (832) 271-1600.
Latest posts by Donna Wrabel, LMSW
(see all)