4 Things That Can Cause Caregiver Stress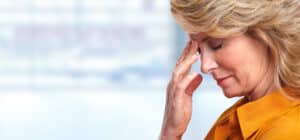 Caregiver stress is a common problem for people who provide care to older adults with chronic conditions. Being a caregiver puts a lot of pressure on a person. There's a lot to accomplish every day and you may be trying to squeeze it in without having given up any of the responsibilities you had prior to becoming a caregiver. In addition, you likely feel stressed about the older adult's health and whether the care you provide is helping (it is!). Sometimes, though, caregivers aren't able to identify exactly what is causing them to feel stressed. Below are 4 things that could be causing your caregiver stress.
#1: Uncertainty
Many caregivers didn't know anything about how to care for an older adult or the chronic condition they have before being put in the position. The uncertainty you have about what to do and what the future may hold could be one of the causes of your caregiver stress. One way to alleviate feelings of uncertainty is to build your knowledge base. You may be able to find classes and seminars in your area that can help you improve your caregiver skills. There are also many books on the market about the experience of being a caregiver. As for the condition the older adult has, attending doctor appointments with them can help you to gather information. While there, ask the doctor if there is literature they can provide and don't be afraid to ask questions. You can also research the condition on the Internet, just be sure to use websites from reliable and recognized organizations.
#2: Financial Issues
Some caregivers help their aging relatives with paying for expenses, such as doctor bills, groceries, and other bills. That means stretching your budget further than you used to. But, even if you don't pay for some of the senior's expenses, you may still have stress from financial issues because being a caregiver can lead to working fewer hours than you used to.
#3: Feeling Alone
Lots of caregivers feel alone because they spend so much time caring for their older family member. They may not see friends and other family members very often. In fact, it can feel like your whole life revolves around the older adult. Being stuck in the house because the senior cannot be left alone can leave you feeling isolated and stressed by the lack of contact with other people.
#4: Guilt
It's not uncommon for caregivers to feel guilty about the care they provide. Many caregivers worry that they aren't doing enough or that they make too many mistakes. Those guilty feelings, however unwarranted they are, can cause stress.
Sources
https://www.verywellmind.com/common-causes-of-caregiver-stress-3144519
If you are considering caregivers in Memorial, TX, for an aging loved one, please call the caring staff at At Your Side Home Care. We will answer all of your senior care questions. Call today: (832) 271-1600.
Latest posts by Donna Wrabel, LMSW
(see all)