At-Home Surgery Recovery for Your Elderly Loved One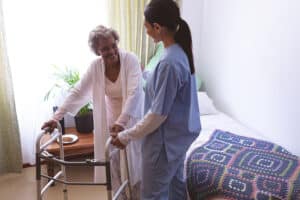 It can be difficult getting through recovery from surgery without having friends or family around to help with the process. Some surgeries can keep someone down for weeks on end. This means they might need assistance doing everyday chores. If you have an elderly loved one who will need help after surgery, consider these tips so you can help them in the days ahead.
Preparations Before Surgery
It is good to make preparations before your elderly loved one even goes into surgery. Some ways your elderly loved one should prepare for recovery include the following:
Go shopping – You should estimate the number of days your elderly loved one will have to be bedridden and take them shopping for anything they might need during this time.
Make items accessible – You should have your elderly loved one make a list of items they use on a regular basis. This might include things such as remotes, toothbrush, favorite coffee cup, and so on. Place these items in an easily accessible place, so they can get to them easier.
At-home physical therapy – When it comes to senior care after surgery, there are times when an elderly adult will need at-home physical therapy. Make sure to speak with your loved one's doctor to see if you need to set this up.
Clear paths – Make sure your elderly loved one has a clear path to the bathroom. Move things like throw rugs, furniture, and other tripping hazards out of the way.
There are many ways to help your elderly loved one get ready for recovery. You will need to make sure their environment is a safe place. If you do have any concerns about your elderly loved one's recovery take a minute to speak with their doctor today.
Helping Your Elderly Loved One After Their Surgery
When your elderly loved one's surgery is over, recovery is ready to begin. You will want to make sure your elderly loved one has some basic necessities available. Some of these include the following:
Comfortable clothing – Sweatpants and t-shirts are great options.
Hand sanitizer – A big bottle will probably be enough
Entertainment – Books, television, video games, or maybe a puzzle will give your elderly loved one something to do.
Medications – Any prescription or over-the-counter medication they might need during this time.
You also might need to make sure they have bottled water. Some people use tap water. If this is the case with your elderly loved one, you should make sure they can easily access their water glass.
At-Home Care Following the Surgery
If you still need help taking care of your elderly loved one during recovery, try contacting a senior care service. They can help with meal preparation, transportation, and many other things, as well. The people who work with these companies are specialized in helping elderly adults through recovery after surgery.
Conclusion
It can be difficult going through recovery after surgery. It can also be difficult for someone to care for a person who is going through recovery. Hopefully, these tips will make the days of recovery easier for you and your elderly loved one.
Sources
https://www.cdc.gov/patientsafety/features/before-surgery.html
If you are considering senior care in Spring Branch, TX, for an aging loved one, please call the caring staff at At Your Side Home Care. We will answer all of your senior care questions. Call today: (832) 271-1600.
Latest posts by Donna Wrabel, LMSW
(see all)