Caregivers Houston: Tips for Enjoying a Healthy Holiday Season
As caregivers, we need to remember to take care of ourselves.  The Holidays are not happy when we are stressed out! Enjoy this article from ComForcare and call At Your Side Home Care if you need help from a respite care caregiver or full time in home care for your loved one.
Tips for Enjoying a Healthy Holiday Season
If preparing for the holidays has you rushing around trying to accomplish everything on your to-do list, it may seem impossible to stick to an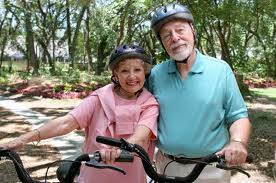 exercise routine, a healthy eating plan or even take time to rest and relax.
However, the added stress of the holidays is exactly why you need to make caring for yourself a priority this time of year. Exercising, eating right and taking time for yourself will help you have happier, healthier holidays.
When you add shopping, decorating and other holiday-related tasks to your already busy schedule, it can be difficult to find time to exercise. Getting in just 30 minutes a day, five days a week, can help you maintain your weight, improve your strength and lower your stress level.
    Look at your schedule. Can you get up a little early and exercise before work instead of stopping at the gym on the way home? This will free up some evening time for shopping or wrapping gifts.
    Target one body area for a few weeks and commit to strengthening and toning that area.
    Combine fitness with family fun. Take the kids ice skating or if there's snow, go sledding and pull the kids back up the hill.
A calendar full of holiday parties and co-workers bringing treats to the office can lead to extra calories and
even weight gain.
    Eat a healthy snack before leaving the house. Filling up on veggies before you go means you will be less likely to reach for high-calorie party foods.
    Stay away from the buffet. Spend your time socializing with a glass of water in hand. Talking will make you thirsty and sipping water all night will help you feel full.
    Remember that it's okay to say "No." Have a response such as, "No thank you. It looks delicious but I really am full," ready when offered something you know you should refuse. Being firm but polite will save you calories.
Preparing for the holidays, traveling and spending time with family can cause you to experience every emotion from elation to frustration. Dealing with your stress will help you relax and enjoy the season.
    Friends shoppingSpend time with friends. Meet for lunch or a cup of coffee. Tackle some holiday tasks together such as shopping or baking. Spend an afternoon helping each other wrap gifts.
    Volunteer. It may seem difficult to fit one more thing in your schedule, but working at a soup kitchen or participating in an adopt-a-family program and helping those in need will put your own struggles in perspective.
    Be realistic about your time, expectations and budget. When we think we have to please everyone, we usually end up hurting ourselves emotionally, financially and even physically if we end up exhausted or ill.
    Get out the calendar and schedule time for shopping, baking and decorating. Be sure to also schedule "days off" from holiday preparations and spend time doing activities you enjoy. Relax in front of the fire with a good book, enjoy a classic holiday movie or have a family fun night playing favorite games.
    Set a budget for gifts and stick to it. This will save you the anxiety that comes with a smaller bank account or large credit cards bills in January.
    Ask for help when you need it, especially if you are an elder care caregiver.
Don't let stress take the joy out of your holidays or affect your health. Write "take care of me" at the top of your holiday to-do list this year, keep it simple and ENJOY!
If you need help with home care for your loved one, contact the caregivers at At Your Side Home Care. We are an in home care agency providing quality and affordable caregivers in Houston and the surrounding communities. Call 832-271-1600.
For most of us, the word "home" evokes warm feelings of comfort, security and well-being. For older adults, home also means holding tight to cherished memories and maintaining self-esteem and independence. When illness, injury or age make life a little more challenging, remaining at home in a comfortable, familiar environment encourages recovery and enhances the quality of life. Home can be defined as a private residence, an independent or assisted living facility or even a short term stay in the hospital, we recognize the additional benefits provided by a personal, professional assistant.

Our Certified Nurse Aides, 24-Hour Live-in Assistants and Home Health Aides are available 24 hours a day, 365 days a year. We also provide the security and confidence of 24-hour Telephone Assistance, so fast, reliable help is always available when it's needed. To learn more about our homecare services see our homecare services page.

Different people need different levels of homecare. To meet the requirements of our clients, At Your Side Homecare maintains consistent staffing levels of caring professionals. Homecare service is available for as little as a few hours a week, or as many as 24 hours a day, seven days a week
Latest posts by Donna Wrabel, LMSW (see all)