Senior Care Memorial TX: Types of Medical Equipment that Keep Seniors Safe at Home
Senior Care Memorial TX: Types of Medical Equipment that Keep Seniors Safe at Home
Maintaining good health and remaining safe at home are top priorities for many independent seniors and their caregivers. The dangers of falling are among the most serious safety issues facing older individuals. Falls can increase the risk of developing serious health conditions and can even result in lengthy hospital stays. Senior care safety equipment such as walkers, wheelchairs, canes and bath aids are designed to help seniors avoid serious injury and maintain their self-sufficiency.
Mobility Walkers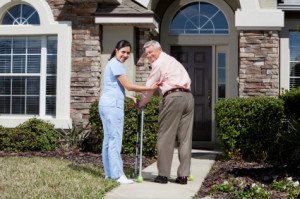 Ordinary tasks such as walking may become increasingly difficult due to weakened muscles and decreased strength. Canes are helpful for individuals who experience a minimal amount of trouble with stability while walking or standing. Mobility walkers allow an individual to place a significant portion of their body weight upon the handles and are used when mobility becomes moderately limited. This helps to relieve some of the pressure that is normally placed upon the muscles during walking and also helps unsteady individuals maintain better balance.
Walkers have four legs that are widely spaced to offer the user better assistance with stability. Lift walkers are lightweight and easy to use for seniors that require limited assistance with stability. Rolling walkers, also known as push walkers, contain wheels and are easier to use particularly for those who have trouble lifting a walker with each step.
Wheelchairs and Power Scooters
Wheelchairs and power scooters may also be used for assistance. These can make excellent mobility aids in the event of an illness or injury. These devices may be used permanently or on a temporary basis depending on the severity of mobility issues.
Bathing Aids
Although shower mats can decrease the risk of injury in the shower, bathtubs and shower stalls may still become slippery and dangerous. A shower bench consisting of four legs and a seat can be placed directly inside the shower allowing an individual to sit down while bathing instead of standing. A handheld shower attachment can make bathing easier while using a shower bench. It can help seniors reach every part of the body without having to twist and turn to reach the water stream.
Keeping loved ones safe is an essential part of in-home senior care. Caregivers will often look for potential dangers and prepare for them accordingly. The use of safety devices can reduce the chances of suffering from an unnecessary fall and help offer peace of mind to the senior and his or her family members.
For more information about senior care in the Memorial area, contact At Your Side Home Care. Fill out our web form or call 832-271-1600 today!
For most of us, the word "home" evokes warm feelings of comfort, security and well-being. For older adults, home also means holding tight to cherished memories and maintaining self-esteem and independence. When illness, injury or age make life a little more challenging, remaining at home in a comfortable, familiar environment encourages recovery and enhances the quality of life. Home can be defined as a private residence, an independent or assisted living facility or even a short term stay in the hospital, we recognize the additional benefits provided by a personal, professional assistant.

Our Certified Nurse Aides, 24-Hour Live-in Assistants and Home Health Aides are available 24 hours a day, 365 days a year. We also provide the security and confidence of 24-hour Telephone Assistance, so fast, reliable help is always available when it's needed. To learn more about our homecare services see our homecare services page.

Different people need different levels of homecare. To meet the requirements of our clients, At Your Side Homecare maintains consistent staffing levels of caring professionals. Homecare service is available for as little as a few hours a week, or as many as 24 hours a day, seven days a week
Latest posts by Donna Wrabel, LMSW (see all)